OVERWHELMED BY WEDDING PLANNING? LET'S FIX THAT.
I know you have a lot of choices when it comes to picking a wedding planner, and I know you're here when you could be bingeing Buffy again, so I'm gonna get right to it:
I MIGHT BE THE RIGHT WEDDING PLANNER FOR YOU IF...
You think everyone deserves love and the opportunity to marry the person they've found it with, no matter what their sexual orientation, race, gender identity, religion, ability, or body size is
You roll your eyes and groan when you see/hear wedding vendors referring to the bride all day long without ever mentioning the groom (or acknowledging that there might be two grooms, or none) because you know that's some patriarchal bullshit
Your wedding might be called offbeat because you're making choices that are right for you, even if that causes people to say things like, "if you don't do X, it's not a real wedding." (Newsflash: if two people get hitched, it's a real wedding!)
You've set a wedding budget that feels comfortable to you, and you want to stick to it, even if it's vastly different from the "average" wedding budgets you've seen
Your wedding will be pretty traditional, but everything above speaks directly to your hearts
You want your wedding to put something good back into the world
Chances are, you've never planned a wedding before, and while you have some grand ideas, you could use some help figuring out how to make them happen. That's where I come in.
⇒psst! you might want to know that I am based in St. Louis, MO, but we'll do most of our work via phone and internet, so we can work together no matter where you live! I'll even travel right to your wedding, in most cases at no extra cost to you.
Here's HOW WE'RE GONNA keep you sane:
» no musts, shouldn'ts, or judgment - just your wedding, the way you want it, with my expert guidance to make it happen
» wedding planning subscriptions starting at $29 per month, which include a self-paced, online wedding planning course and a monthly "Ask Me Anything" live Q&A
» a free facebook group where you can meet your fellow off-the-beaten-path engaged peeps
» one-on-one planning help available to everyone through the magical powers of the internet
» FREE TRAVEL within the continental United States for wedding coordination+ packages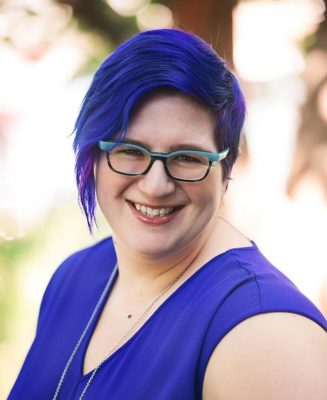 HELLO! I'M CINDY, YOUR QUEER FEMINIST ANTI-STATUS QUO WEDDING PLANNER.
I help woke* couples like you plan meaningful weddings while keeping your sanity and your budget intact. 
You can read more about me later, but first and foremost, I want to be crystal clear that I'm here for all kinds of couples - no matter your race, sexual orientation, gender identity, religion, age, ability, immigration status or wedding budget size.
I am here to help you get the wedding you want and sometimes that means saying fuck you to what the wedding industry dictates and doing whatever suits you two best.
*Woke means being aware of what is going on around you with regard to social justice issues such as racism/white supremacy, sexism/toxic masculinity, homophobia, xenophobia, ableism, fat shaming, persecution of non-christians, etc.

If you condemn those things in the strongest possible terms, I look forward to discussing the many intersections of social justice, equality, feminism, and the wedding industry with you as we plan.
If you think these things are a-ok or don't know what I'm talking about, then thanks but no thanks, I am not the right wedding planner for you. Please learn to give a fuck about your fellow human beings.
---
Can't wait to start planning together? Neither can I!
Not quite ready to click that button? Maybe you should come on over to my FREE Facebook group and get to know me first.