I know you're busy and you're hanging out here when you could be halfway through another Buffy rewatch, so let me make this wedding decision easier for you. (It's what I do, after all.)
I might be the right wedding planner for you if...
You think everyone deserves love and the opportunity to marry the person they've found it with, no matter what their sexual orientation, race, gender identity, religion, ability, or body size is.
You are refusing to let the wedding industry and cultural expectations dictate how you celebrate your love.
You are examining patriarchal marriage traditions through a feminist lens, carefully considering what to include and how to make it work for you.
Your wedding might be called offbeat because you're making choices that are right for you, even if that causes people to say things like, "if you don't do X, it's not a real wedding."
You want your wedding to put something good back into the world.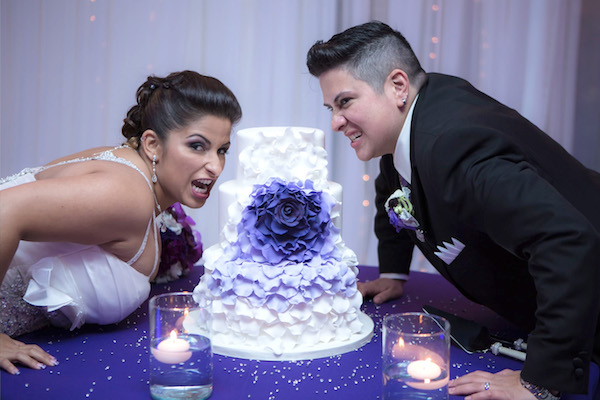 Chances are, you've never planned a wedding before and you could use some professional help figuring out how to make this shindig happen. That's where I come in.
Hi! I'm Cindy, your queer feminist wedding planner.
I've been planning live events since 1995, when I got hooked on the behind-the-scenes work that happens in live theatre. As a stage manager, I worked with all kinds of personalities to create unique experiences, handling every small detail without losing sight of the big picture. That's the A game I'll bring to your wedding. (Read more about why stage managers make great wedding planners here.)
While planning my own wedding in 2010, I noticed all the bride-centric, sexist, homophobic nonsense and it it pissed me the fuck off. So I decided to do something about it. In 2011, I switched gears from theatre to weddings and focused on advocating for couples who are marginalized by society and the wedding industry to get y'all the joyful, beautiful, offbeat, love fests you deserve.
I am really damn good at planning big parties and at helping you sort out what's important to you so that you can have the wedding you actually want.
Oh yeah, and I'm also great at reducing your wedding planning stress so you can chill the fuck out, too!
Not quite ready to click that button? Come on over to my free Facebook group and get to know me first.
Some random facts about me:
(in no particular order)
I love musicals, and may spontaneously burst into song if you happen to utter any words that remind me of lyrics. 99% of the time it'll be Into the Woods.
Breakfast is my favorite meal, and I eat it every single day. It almost always includes soft-boiled eggs and avocados.
I am deathly afraid of alligators and I'm pretty sure this is why.
I am 100% certain that I will one day need my appendix removed and I'm pretty sure this is why.
My favorite number is 37.
I once begged and pleaded my mom to buy me a Halloween Domino Rally set, only to beg and plead her even louder to return it the very next day because it gave me nightmares.
My taste in liquor can best be described as "enjoys licking the inside of a barrel."
I loathe rom-coms, and in fact, just about all comedy of every sort. If it's not bracingly smart and also kinda dark, it's just not my jam. Sorry, Love, Actually fans.
I can sing the alphabet backwards.