Meet Hanna and Alex. These two are a shining example of a couple really staying true to themselves throughout the wedding planning process! We dissected just about every tradition to figure out what felt right to keep and toss. (We tossed A LOT.) From the get-go, we knew we'd be planning a very egalitarian wedding that focused on everyone having loads of fun and booze, and their dog, Rowdy, being a major player.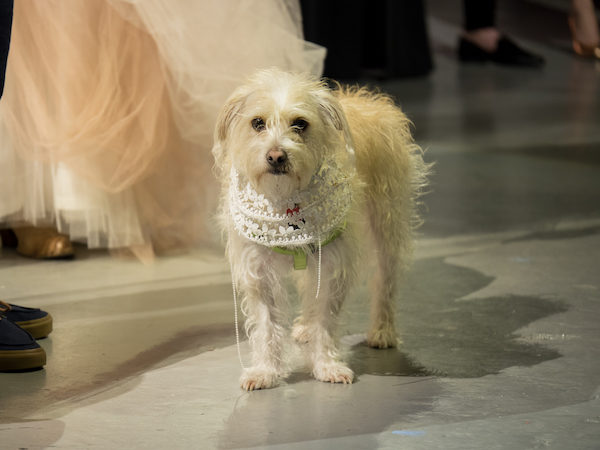 Hanna and Alex began their day in an all-gender wedding suite and spent the morning getting all dolled up with their fabulously-dressed wedding party. As guests arrived, they had the chance to drop their coats and puppies off. Yes, you read that right – Hanna and Alex hired dog-sitting pros so they could have a puppy playroom! Once their pets were making friends, the crowd had a chance to grab drinks and appetizers before finding their table for the night, which got everyone in a great mood for their totally non-traditional ceremony.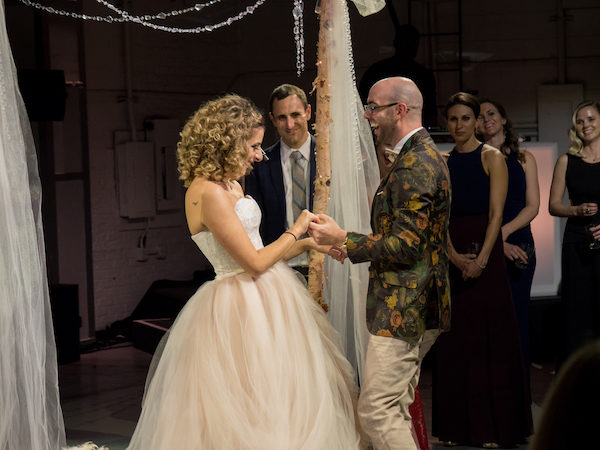 Ok. This ceremony was so great. First off, their wedding party and parents (about 20 people total) entered in a posse, and handed out wishing stones to each of the guests. Then Rowdy the dog, dressed in a collar made from Hanna's mother's wedding veil, escorted his human parents up the aisle together, and stayed with them all the way through. And you know all that stuff that usually cuts into your eating and dancing time? Well, Hanna and Alex brilliantly incorporated it all into the ceremony, and it was fucking awesome! After an introduction by their friend Larry, who officiated, we heard the speeches from parents and best people, their exchange of vows (no rings – they got tattoos instead!), and wrapped it up with their first dance in lieu of a traditional recessional…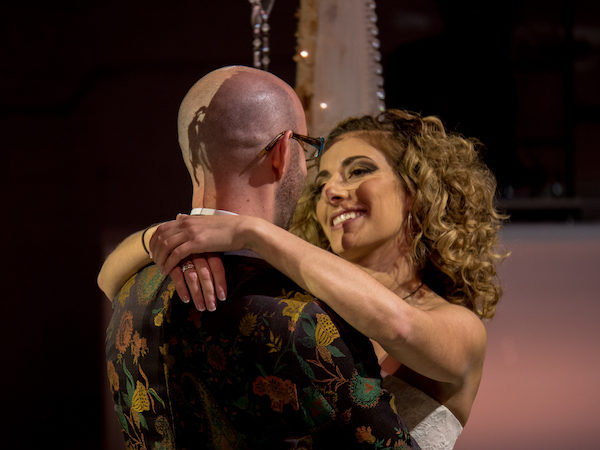 …which segued perfectly into the dance floor opening and Chicago deep-dish pizza going out on the buffet! A little while later, this adorable ice cream cart rolled up into the hallway, complete with all the toppings.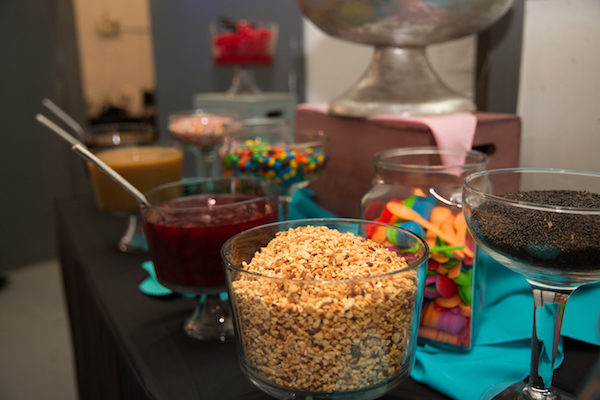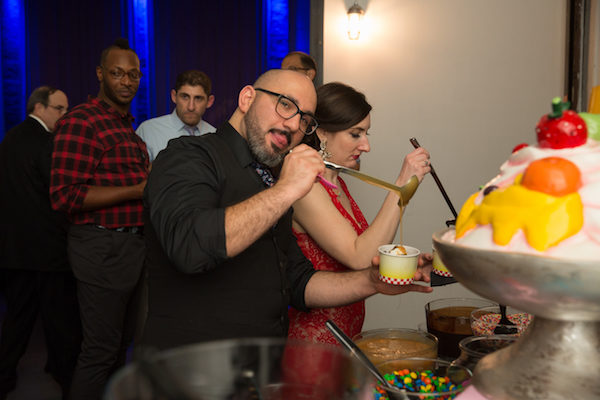 Oh? And one more little tidbit: Hanna's brother, a co-bridesmaid, showed up with two suitcases full of Rowdy-branded wedding sweatshirts for the guests. So naturally, the bride ended up twirling around in one by the end of the night!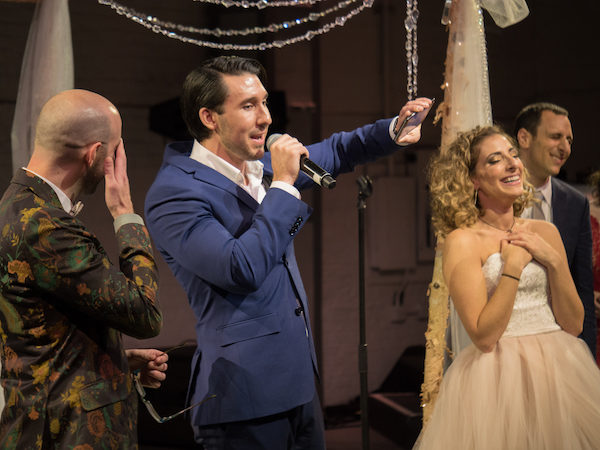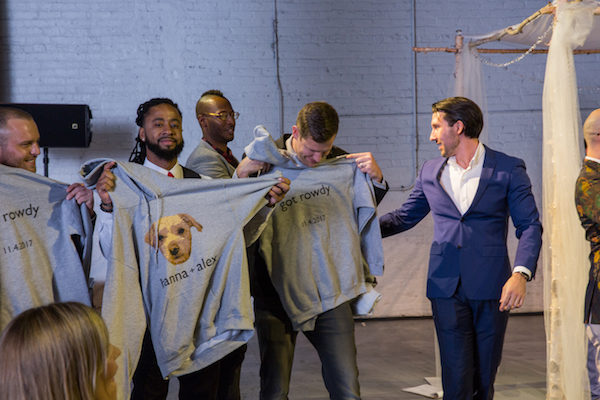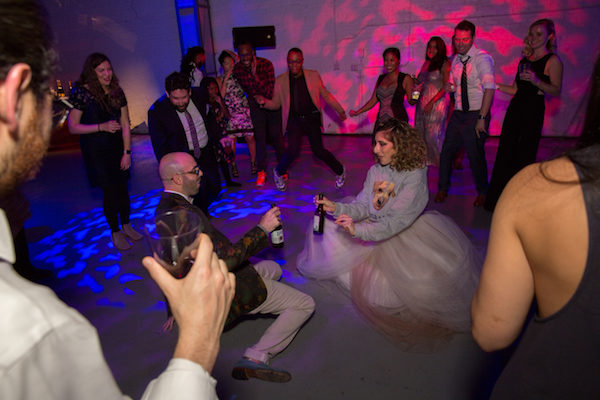 Hanna and Alex, I am so honored to have been a part of this grounded, joyful, feminist AF celebration of your love and your incredible community! Thank you for including me. I wish you many, many years of happiness together.
---
Hanna & Alex's Kickass Event Team:
Wedding Planner: Aisle Less Traveled (that's me!)
Venue: Moonlight Studios
Photography: Alex Chessare Photography
Videography: Couch Fire Films
Lighting: Sound Investment AV
DJ: DJ Bizzon
Catering & Event Staff: Maison Cuisine
Pizza: Lou Malnati's
Ice Cream Sundae Bar: Carts of Chicago
Beverages: Prestige Liquors
Hair: Natalie Hue, Meraki Room
Makeup: Brittany Vogel, BeVoge Makeup
Ceremony Canopy: Chicagoland Chuppah Rental
Dog Sitters: SIT Social: A Dog Lounge
Parking: VIP Valet
All photos in this post were taken by Alex Chessare Photography and are reposted here with the photographer's permission. Photos in this and all posts are protected by copyright and are not available for reproduction, redistribution, or any other purpose without written authorization from the photographer.