Lately, I've seen a trend of venues and other vendors who are not wedding planners offering "day-of-coordination" as an inexpensive add-on to their packages or even including it at no charge. This seems like a big bonus to engaged couples, but is it really all it's cracked up to be?
Here are five reasons why you should think twice before working with a coordinator from any wedding vendor other than a wedding planner.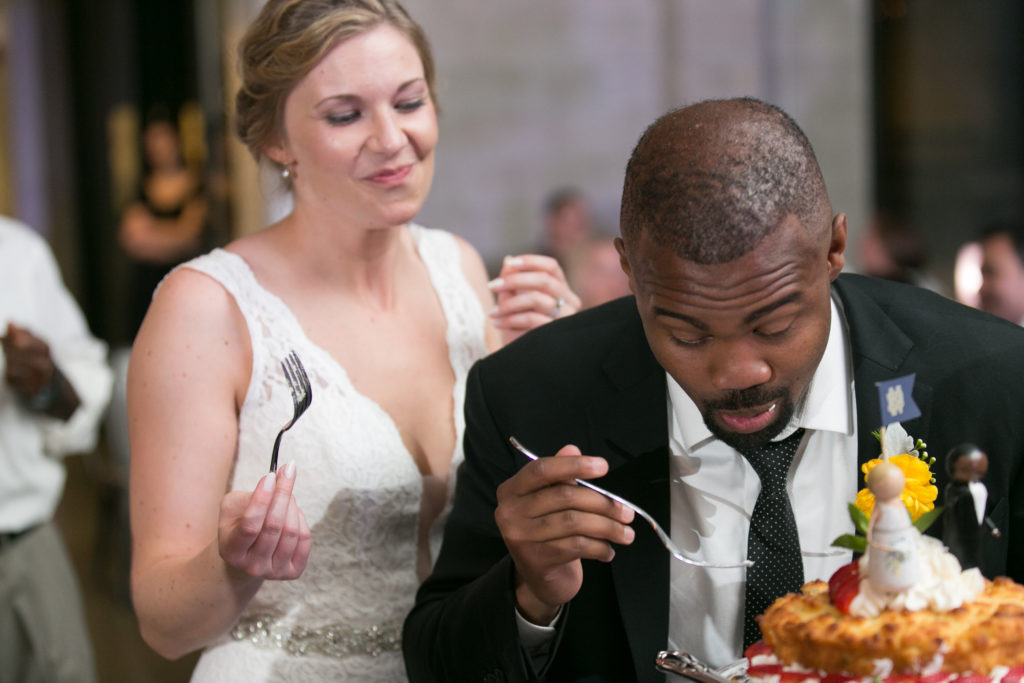 1. Wedding Planners are Experts in Planning and Managing Weddings
Other wedding vendors are… not.
Look, I'm not saying that other vendors who offer to coordinate your wedding are necessarily going to be bad at it; they may be great or they might just be good enough. But there's a huge risk that they may not really know what they're doing and that can make a big difference to how smoothly your wedding day goes.
Sure, your caterer and your DJ may be great at putting together a reception timeline, but can they sort out a hair and makeup schedule for your 8-person wedding party? Do they have a handle on the logistics involved in setting up and breaking down your DIY centerpieces? And, somewhat importantly, will they actually DO that for you? Do they have the experience (and the "Oh, shit!" kit) to handle all the little emergencies that inevitably arise during a wedding day?
Maybe. But there's a good chance they aren't experts in this because, well, it's not their job. I would never offer an add-on for my team to be your DJ or cater your meal or take your photos – even though I have great taste in music, I'm an A+ cook, and I like to think my time in art school gives me a decent eye for composition.
You know why? Because I'm not an expert at any of those things and my team isn't either. We focus on one thing: planning and executing all the design and logistics involved in a wedding. Period.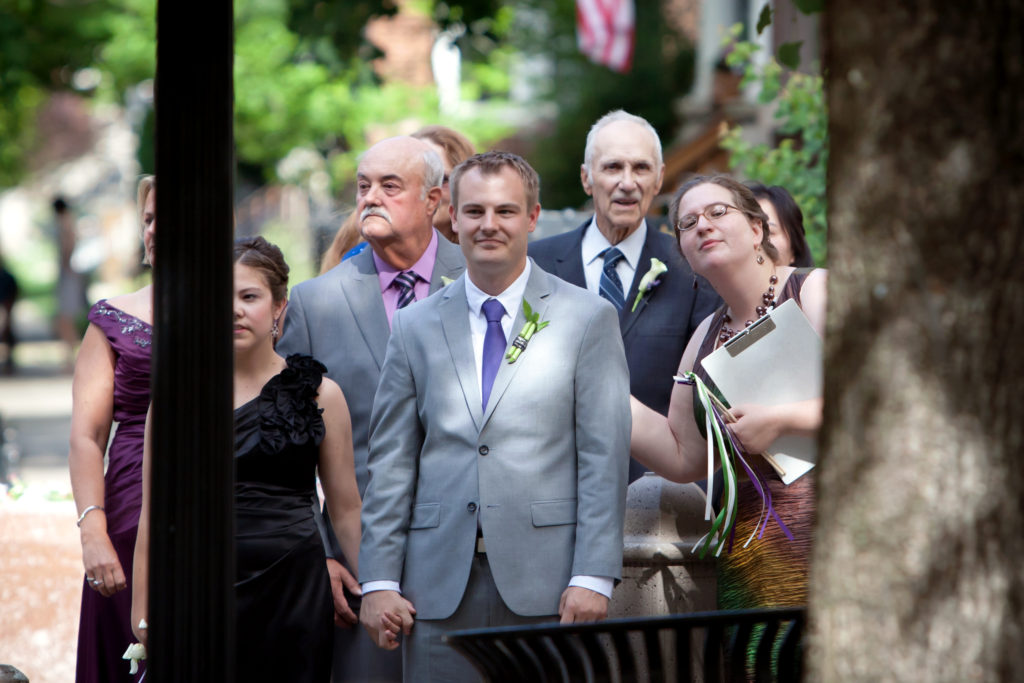 2. Wedding Coordination is So Much More Than a "Day-of" Job
Oh man, this one is really the biggie. I've lost count of how many times I've heard a couple were disappointed with a wedding planner who wasn't doing what they'd expected only to find out their "wedding planner" was a coordinator provided by the venue or another vendor.
Like I said, they may be pretty well-versed in the ins and outs of the day itself (in fact, they should be!) but your wedding day is the FINAL PIECE of the wedding management puzzle. Nobody can do a good job at executing an event without preparation.
For me, it's starting with unlimited email and phone calls from the day you book me – so that you can plan with confidence knowing all of your questions will be answered.
It's giving you access to my wedding planning subscription so that you have all the tools and advice you need to plan like a pro.
It's meeting with you three months before your wedding to go through my 8-page checklist to ensure no detail is over looked and you've considered everything you need to consider.
It's putting together a detailed timeline using my years of expertise about how long things truly take (my weddings pretty much always run on time!), organizing every item coming and going into a setup/strike plan, working out the best floor plan for your event to flow well, documenting your processional order and shot list and a cell phone number for every indispensable VIP and vendor.
It's one more meeting with you to review and finalize every last detail.
It's making sure the rest of your wedding pros have everything they need, we are all on the same page, and confirming it all in advance. And then fielding the final questions the week of your wedding.
It's running your rehearsal and making sure your wedding party and family members know how to reach me so that they can leave you alone to enjoy your wedding day.
And that's all before the wedding day even starts. It's 20-30 hours of my time to get ready to manage your wedding day.
And I can all but guarantee you that if you're using a coordinator provided by another vendor, you aren't going to get all or even most of that. (Hell, even if you hire another planner, you won't – because my planning subscription is unique! Plus, many planners don't offer unlimited phone and email until a month or two before your wedding. But I digress.)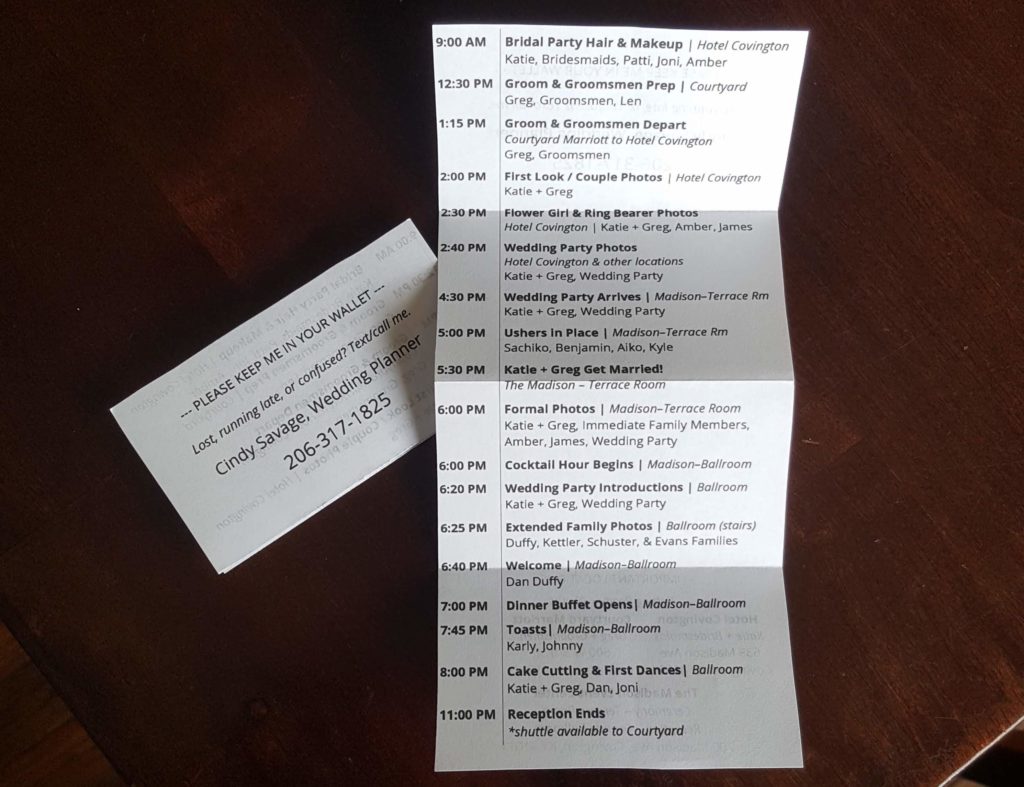 3. No Wedding Vendor Can Defy the Laws of Physics
Yo! You can't be in two places at once! You definitely know this already – it's probably a big reason why you're thinking about hiring a wedding manager in the first place!! Because you know you cannot set out 175 place cards, 4 signs, a guest book, and a selfie station at the same time you are getting your photos taken with your wedding party on the other side of town.
Likewise, your caterer cannot cue your ceremony entrances while they're in the kitchen prepping for your cocktail hour. Your photographer cannot snap photos as you walk down the aisle while also fluffing your train out behind you. A DJ can't abandon their booth to run bandaids to the wedding party member who didn't break in their heels. And on and on.
Furthermore, you should be wary about anything happening outside of your reception venue. A coordinator provided by the venue isn't going to check in on you while you're getting ready at your hotel and they aren't going to pop over to your ceremony space to setup your unity candles.
I know you get the idea, but here's my point: Your other wedding vendors are going to be busy doing their own jobs and there are going to be times when they simply cannot also serve as your coordinator because they have to be doing something else, somewhere else. As they should be.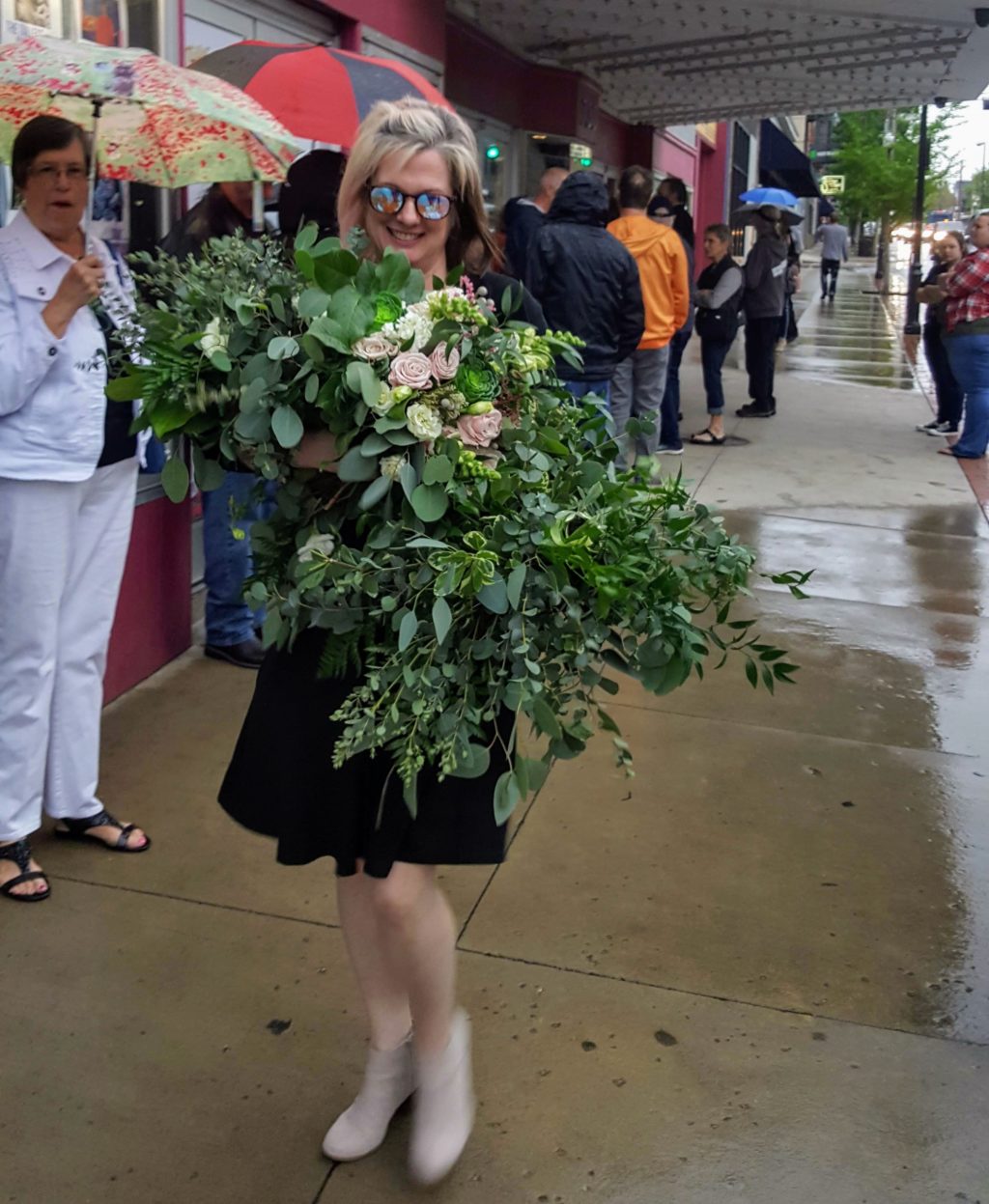 4. Your Wedding Planner's Only Job is to Take Care of YOU – Unless They Work for Another Vendor
When you hire a wedding planner to coordinate your big day, you can rest assured that they have allegiance to only one team in the process: YOURS. But if you're adding on coordination service from your venue, caterer, DJ, or another wedding vendor, their loyalty is always going to be to the company they work for.
So what happens if, for example, your venue includes a day-of-coordinator as part of your package, but then you have an issue with the venue? Now, your coordinator can't go to bat for you because they've got the venue's best interests at heart.
But if you've hired me, or another qualified wedding planner, we're there to say, "Well, actually, you told us at the last meeting that the ceremony space is included at no extra charge."
And then to insist that they actually do it. (One of the perks to hiring a wedding planner at all is that we are repeat business to venues and vendors; in fact, we're frequently even the folks who send them business! They want to make us happy in order to keep the referrals coming. You, on the other hand, are a one-and-done client so there's less motivation to make sure you have a top-notch experience.)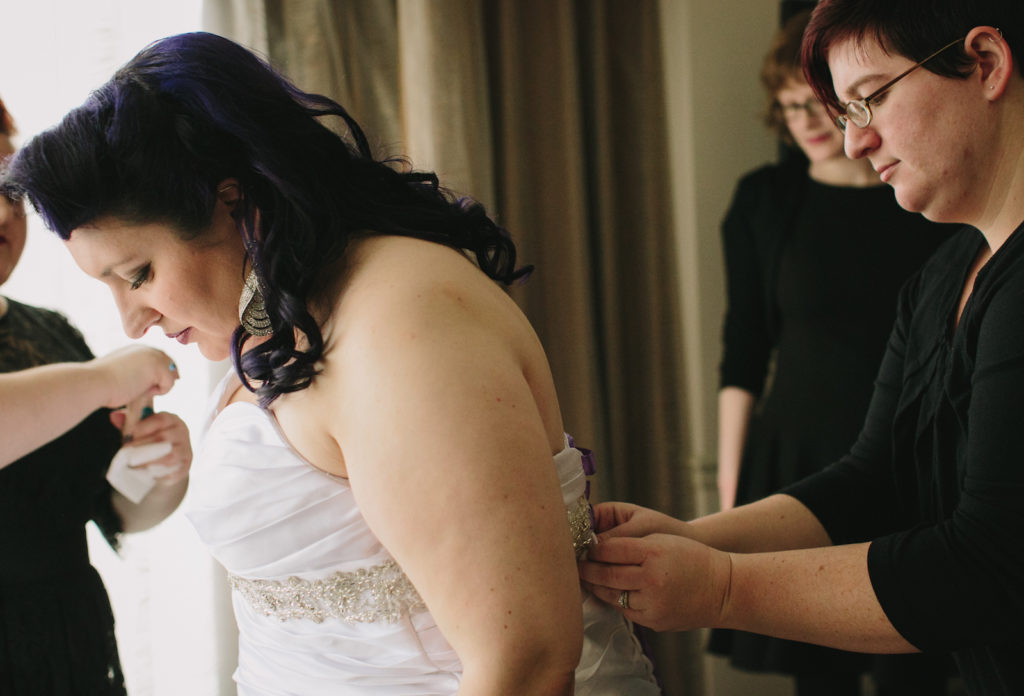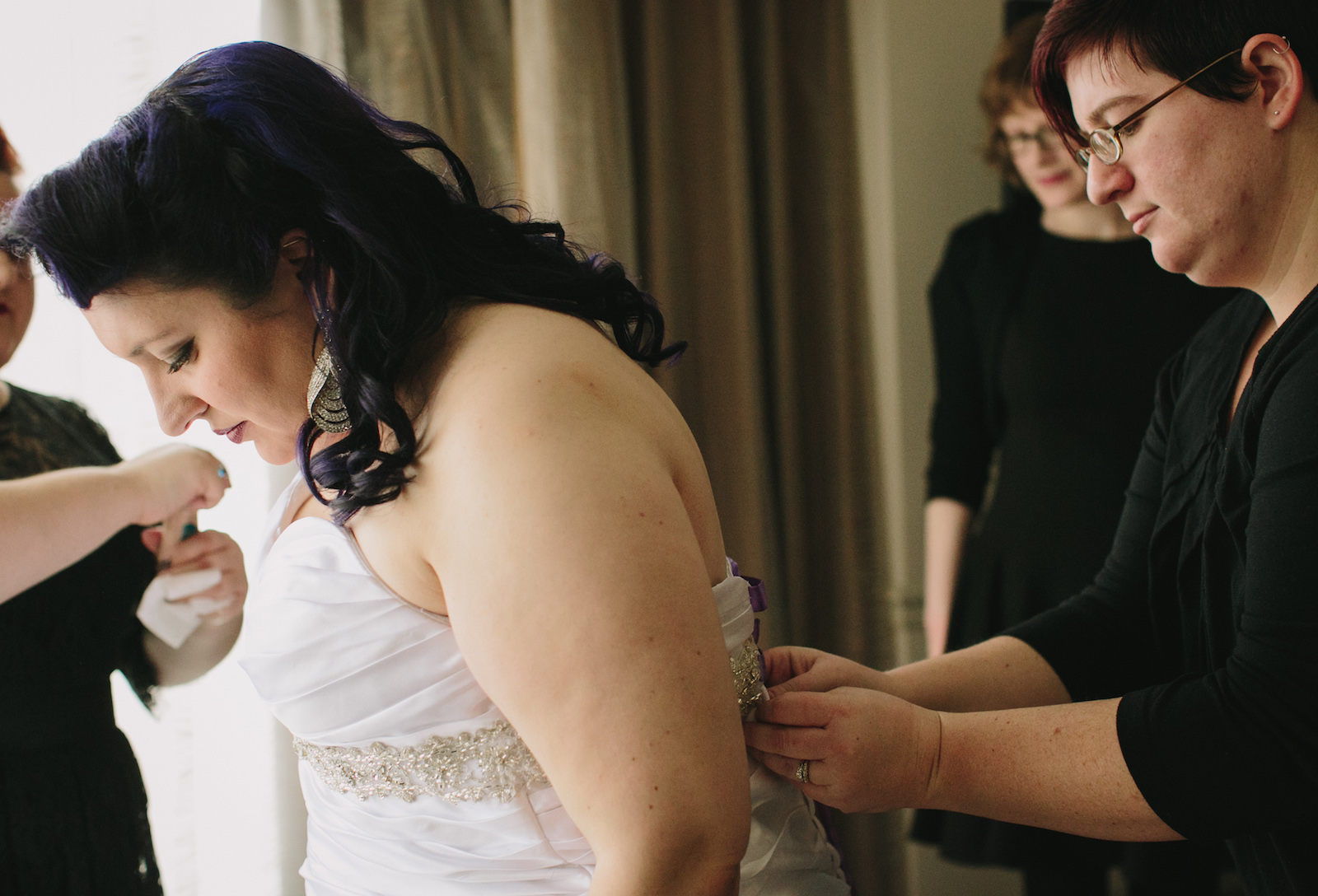 5. As Always, You're Probably Gonna Get What You Pay For
My point is: Anybody actually doing all of the above for the $300-$800 fees I usually see associated with these add-on coordination services is not getting paid anything remotely resembling a fair wage for their work.
And most of the vendors offering "coordination" are providing a significantly more limited service – usually creating your timeline, maybe they're making you a floor plan, possibly they will set up some small décor items for you, and they should, at least, manage the timing of your day. But don't expect them to show up at locations other than the reception, cue your ceremony entrances, confirm things with other vendors in advance, or attend to your personal needs throughout the day.
If you are hiring a professional wedding planner to execute your wedding day plans, you should expect to spend $2500-$4500+, depending on your location, and the size and scope of your wedding.
---
Need a professional wedding planner to manage your wedding? I'm here for you. And yes, my rates for wedding management average around $3800 – because I know what I'm doing, I've done it a lot, and I'm really goddamn good at it. (Check out my 5-star reviews if you want an outside opinion.)