As soon as I tell a new acquaintance what I do for a living, without fail, the first question out of their mouth is, "Do you ever have to deal with any Bridezillas?"
And I always answer: "No. Because I don't let Bridezillas hire me."
But actually, I'm not sure if that's true because – hear me out – the word "bridezilla" is just a wedding industry substitute for the word "bitch". And I absolutely do let (and encourage!) women with strong opinions who know what they want to hire me to get it for them.
(What I really mean when I say that is that I don't let rude, entitled people who will treat me like 'the help' hire me; I only work with clients who truly value the hard work I do to make their weddings happen with significantly less stress than planning on their own. But I digress…)
You know how, in the business world, there's an impossible standard for women? That one where if you're too nice, you're a pushover who can't get the job done and if you're getting shit done, you're mislabeled aggressive and routinely called a bitch? While – at the exact same time in the exact same company – men doing the exact same things are called assertive and seen as leaders?
We have that in weddings, too. There's an impossible standard here (which you can read more about here), but what it boils down to is this:
*This expectation is pretty strictly reserved for straight folks, mainly because the wedding industry and society in general completely overlook the existence LGBTQ+ weddings and marriages.
And then, when women have the nerve to care about their wedding days; have opinions on dresses, flowers, lighting, and colors; and ask for wedding pros to provide these things to an exacting standard, we roll our collective eyes and say, "Bridezilla!"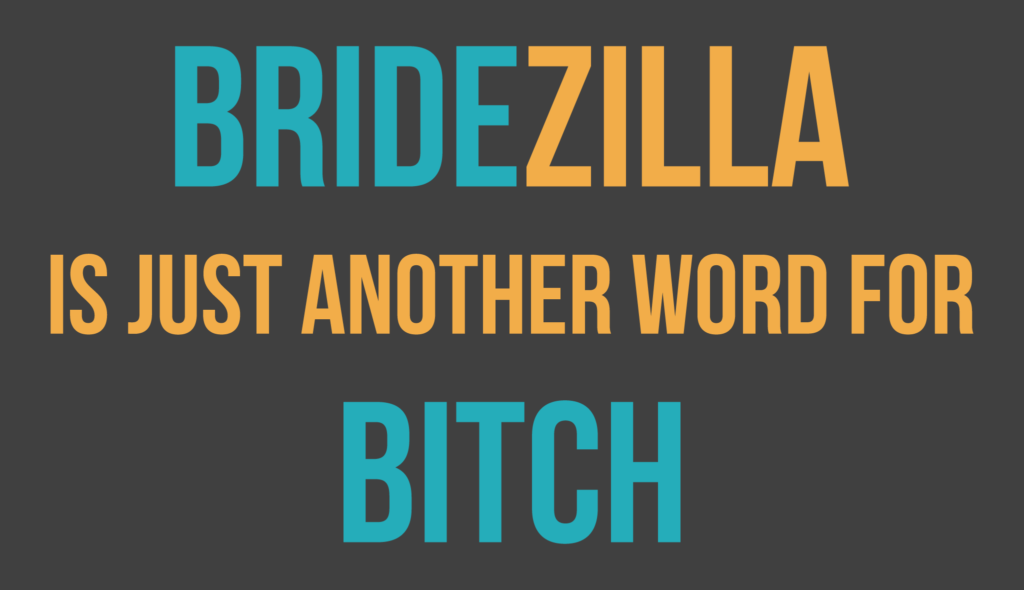 Excuse me, but what the actual fuck would people like women to do instead, exactly? Not make any decisions about their weddings? Not care about the details? Just hire whatever vendor they find first or has the lowest price and cross their fingers that a cohesive event plans itself?
Who is going to care about those things instead, then? Because while demanding that women handle all of this, we simultaneously absolve men of the expectation of even thinking about it, never mind participating in the tedious labor (emotional and otherwise) that is actually required to plan a wedding.
So, how about we just drop this word from our collective vocabulary and instead celebrate women who know what they want and go after it, yeah?