One of my favorite parts of being a wedding planner is all the wonderful people I get to meet but what's even better is when they introduce me to other amazing humans in love and I get to celebrate their weddings, too! That's exactly what happened with Katie and Greg. A few years ago, Katie's aunts, Mary & Pam, hired Aisle Less Traveled to plan their Chicago elopement. (Which was amazing!) So, when these two decided that having a wedding planner on their event team was essential, they reached out to us.
Greg and Katie's wedding day unfolded just outside of Cincinnati in Covington, Kentucky. They got ready with their respective wedding party members and then met up for a first look and photos in the gorgeous courtyard of the Hotel Covington. Then it was a short walk down the block to the Madison Event Center, where their guests gathered for an emotional wedding ceremony. Then they were off to take photos around town while my assistant, Bec, and I transported their floral arrangement from the ceremony arch to the head table in the ballroom. A night of dining, dancing, and mugging for the photo booth followed, capped off with a treat from Skyline Chili!
I asked Katie and Greg to share a little bit about themselves and how the wedding planning and their big day went:
How did the two of you meet? What was your engagement like? Who proposed and how?
Even though we've both tried, we can't remember when we actually met! We grew up in the same town and went to school together since we were eight years old, so our "how we met" story is a little different than most. We were in the same third grade class, so it's probably safe to say that the first time we met was during an activity in Mrs. Elgin's room. As we grew up, we hung out in the similar friend groups and were in many of the same classes and extracurricular activities up through high school. When we went off to college, we lost touch a little bit, but kept up with each other through Facebook posts. When Greg transferred back to Ohio as a sophomore, we reconnected and began dating.
After four years of dating, we got engaged during a trip to Los Angeles. Katie was there for a conference and Greg tagged along to see the city and take a vacation. We spent four days exploring the city, taking guided tours, and walking along various boardwalks (one of our favorite vacations ever!) On the last day of the trip, Greg took Katie out to a nice dinner and then we went on a walk on the rooftop terrace of the hotel, where he popped the question! It was such a sweet moment for the two of us to share and we love looking back on the memory.
What was your favorite part of wedding planning?
Our favorite part of wedding planning was picking out our menu! We both love to eat and try new foods, so we were looking forward to picking out the most delicious dishes to serve our loved ones. Our venue hosted a menu tasting event where we sampled catering and drink options. It was a fun night of eating which introduced us to our new favorite appetizer – goetta balls!
What was the hardest/most stressful part of wedding planning?
The most stressful part of wedding planning for us what determining the timeline. We had a large wedding with over 200 guests, a wedding party of 14 people, and two locations within a venue space. We had no idea where to start with all of these moving pieces and we wanted to make sure our wedding flowed at a nice pace (and that people never got hungry!) Cindy did an AMAZING job helping us with this part and made sure we got everything out of our wedding we requested, while also making sure our guests and other wedding vendors we able to do their jobs most effectively.
What made you decide that you needed or wanted to hire a wedding planner? Why did you think Aisle Less Traveled was the right choice?
We had been thinking about hiring a wedding planner since our engagement but weren't sure about how to find the right fit. After booking our vendors, we were having a difficult time actually planning the wedding, as we were both working full time and generally did not know what we were doing. Cindy was recommended to us by Katie's aunts after she had planned their elopement (and gotten rave reviews.) Cindy helped us bring our wedding vision to life and took care of all of the wedding components that we either didn't know how or just didn't really want to do.
How did you pick your wedding location and venue? What were you looking for when you started searching? Did you find it?
We met a representative of the venue at a local bridal show. We both come from large extended families, so our number one priority was finding a place that could comfortably hold everyone. Additionally, we were looking for a venue that had in-house catering, bar, and bakery so we could streamline our contact people. After viewing the Madison, we loved its historic charm and downtown feel – we were sold!
What were some of your favorite moments of your wedding day?
We loved our "first look" time. When we finished getting ready, we met in an outdoor courtyard and were able to see each other for the first time on our wedding day. This time was so special to us because these few minutes were the only time we spent alone with each other (with our awesome photographer hiding off to the side) the entire day. It was such an emotional and personal moment for both of us, and it grounded us for the rest of the day.
What are some of your favorite wedding details?
One of our favorite wedding details was our flowers. We had a wonderful florist who helped create gorgeous pink, gold, and cream arrangements that looked like a fresh spring day. The groomsmen's boutonnieres were simple and modern succulents that fit the springtime theme.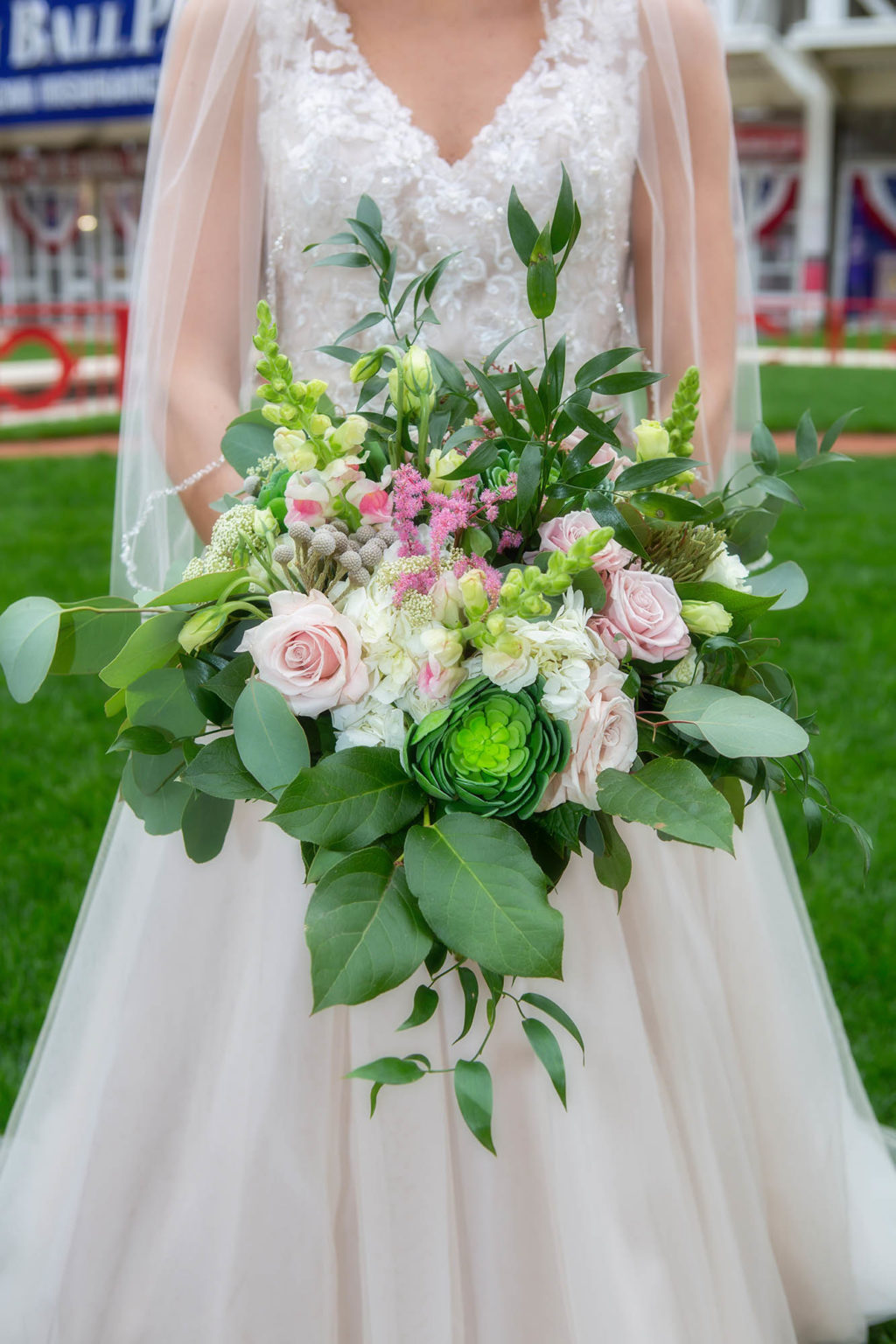 We also loved our late-night snack of Skyline Coney Dogs! Skyline is a popular local restaurant that serves Cincinnati-style chili over spaghetti and hot dogs. We eat at Skyline a lot (like, A LOT), so we loved sharing one of our favorite foods with our out-of-town guests.
Tell us about the music you chose for the important moments of your day.
We tried to choose a wide variety of music (oldies, slow songs, line dances, popular hits) so that everyone could find a song to come out and dance to. We both love a good dance floor, so we wanted as many people as possible out there dancing with us! Our DJ did a wonderful job reading the crowd and playing music to keep the party going.
If you were planning your wedding and getting married all over again, is there anything you'd do differently?
We would have booked Cindy sooner! Seriously, we wish we would have contacted Cindy the day after we got engaged. She was so knowledgeable (and calming and supportive) throughout the entire process that we wished she could have been along for the entire ride.
What was the best or most valuable thing you spent money on for your wedding?
The most valuable thing we spent money on for our wedding (besides Cindy) was our photographer. He had great experience photographing weddings in the Cincinnati area and knew exactly where to take us for photos. We so appreciated his photography style and sense of humor throughout the wedding day, and the fact that we loved our pictures!
---
We had such a lovely time planning with Greg and Katie and hanging out with their wonderful family members and friends during their wedding! These two are such warm, kind people and are so very much in love with each other. It was truly a pleasure to be part of this important time in their lives. We wish them many happy years together – and we look forward to catching up at the next Duffy family wedding!!
---
Meet the Wedding Pros
Every great wedding is backed by a team of incredible wedding professionals. We can do our best work when we're working with the best people. Here are the ones who helped us make this wedding happen:
Wedding Venue & Catering: The Madison Event Center
Photography: Cincinnati Digital Photography
Florist: Casey's Outdoor Solutions
DJ: A Steve Bender Entertainment
Late Night Snack: Skyline Chili
Officiant: Elizabeth Diop
Hair & Makeup: Lunatic Fringe Salon
Transportation: Motor Toys Limousine
Wedding Planner: Aisle Less Traveled, of course! (Learn how we can plan together here.)
The photos in this post were generously shared by Cincinnati Digital Photography and are reposted here with their permission. Photos in this and all posts are protected by copyright, which means it's illegal for you to download, copy, share, or alter them without written authorization from the photographer.