Confused by all the wedding rules there seem to be? The shoulds, shouldn'ts, must-haves, and must-dos required for a 'real' wedding? Eff that noise. Let me tell you the only two rules you absolutely have to follow in order to plan your wedding the right way:
1. Pick the right person.
This is the most important thing, so don't fuck it up.
2. Follow the rules…
…of any jurisdiction or religious institution that you want your marriage to be recognized by.
THAT'S IT!
Seriously.
THE REST IS JUST A PARTY – AND YOU CAN PARTY ANY WAY YOU DAMN WELL PLEASE.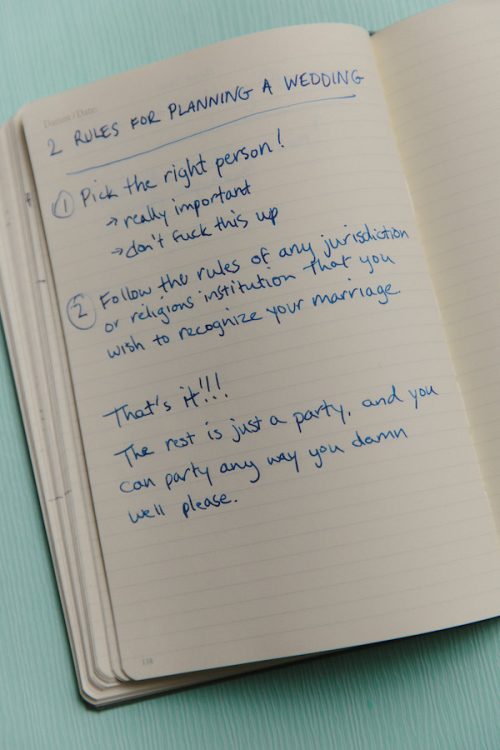 When you ask me, "Can we do _______?"
My answer is always going to be "YES, YOU CAN!"
(Assuming it's logistically possible and fits within your budget.)
Because it is your wedding, and it should be what you two want it to be.
YOU pick which traditions feel good, and which you want to skip.
YOU decide whether a religious or secular ceremony is right for you.
Yes, YOU can order pizza delivery for your reception dinner if you want.
Or YOU can have a four-course plated meal.
Skip the cake or the first dance or the bouquet toss or the toasts, if that's what suits you. Or include every wedding tradition there is.
It's not about making the 'right' choices; it's about making the right choices for YOU.
So go ahead, embrace who YOU are, and plan a wedding that is the YOU-est event there ever has been. I'm here for it, and your loved ones will be too.
Wondering how to even get started making this shindig happen? Grab my free checklist.
Need some professional planning help? I have a full range of wedding planning services for just about every budget.