This year was another wild ride in the world of COVID weddings! I'm so grateful for all of our fabulous clients, who took the many changed plans of the pandemic in stride, and for the amazing wedding pros who exemplified teamwork and flexibility through all the ups and downs.
Winter: Rolling with the COVID Wedding Punches & Staying Home
Much of the first half of 2021 was spent in a seemingly endless loop of waiting, keeping up with constantly changing mandates and restrictions, altering plans to meet them, and then… doing that all over again a few more times.
In the meantime, I wrote an article about COVID and weddings that went a little bit viral and I made an appearance on a local Seattle wedding podcast, Best Made Weddings, where I talked about COVID and weddings (of course) as well as my passion for LGBTQ+ inclusivity in the wedding industry. Watch it here:
February and March brought some interesting new opportunities as I was invited to be a guest lecturer for two different college courses and a group of stage maangers on a topic near and dear to my heart: utilizing stage management skills in the world of weddings.
In the spring, vaccine rollouts meant we could finally start having events again. And so I hit the road!
Spring & Summer: Travel, Travel, Travel
In May, I had my first COVID airport experience (zero stars, do not recommend) as I headed down to L.A. for Kat & Cheryl's wedding. Their ceremony was at the incredible glass-ceilinged Wayfarers Chapel, right on the coast of the Pacific Ocean. Afterwards, we headed across town to Pasadena for their reception at the Shakespeare Club.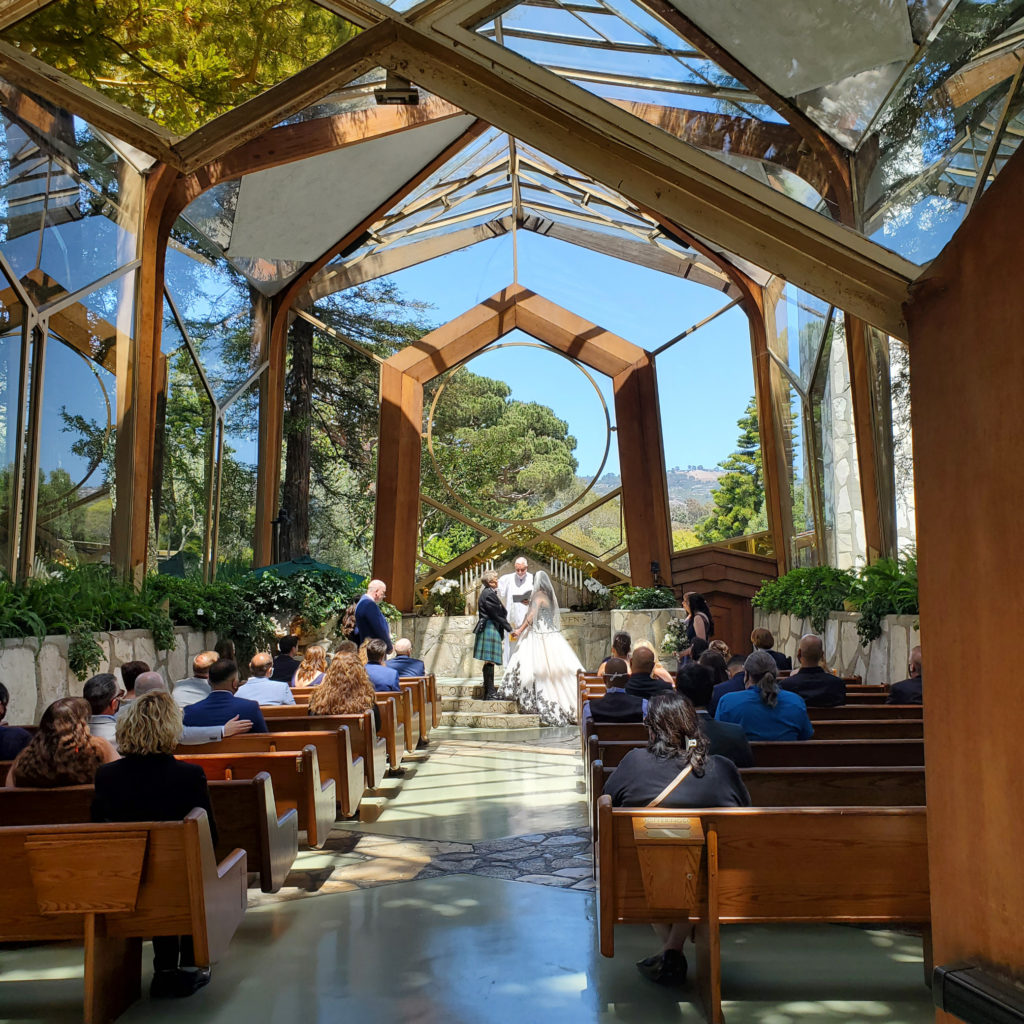 June and July both took me back to Chicago (where I started this business way back in 2011!) I always feel a bit nostalgic when I return to my old hometown and this trip was no exception. These two weddings fell during that shimmering window of relative safety before Delta hit and the relief was palpable. People were so happy just to gather together, in person, that dance floors (though open) remained relatively empty as folks seemed to focus more on those face-to-face conversations and interactions.
Carolyn and Ben celebrated their marriage with a fully vaccinated guest list of about 25 people – the perfect size to ease safely back into this new normal. Their wedding at the historic Charles Gates Dawes House was intimate, heartfelt, and absolutely bursting with love and community. (So much so that this group of friends insisted on helping with the cleanup, even though it was very literally someone else's job!)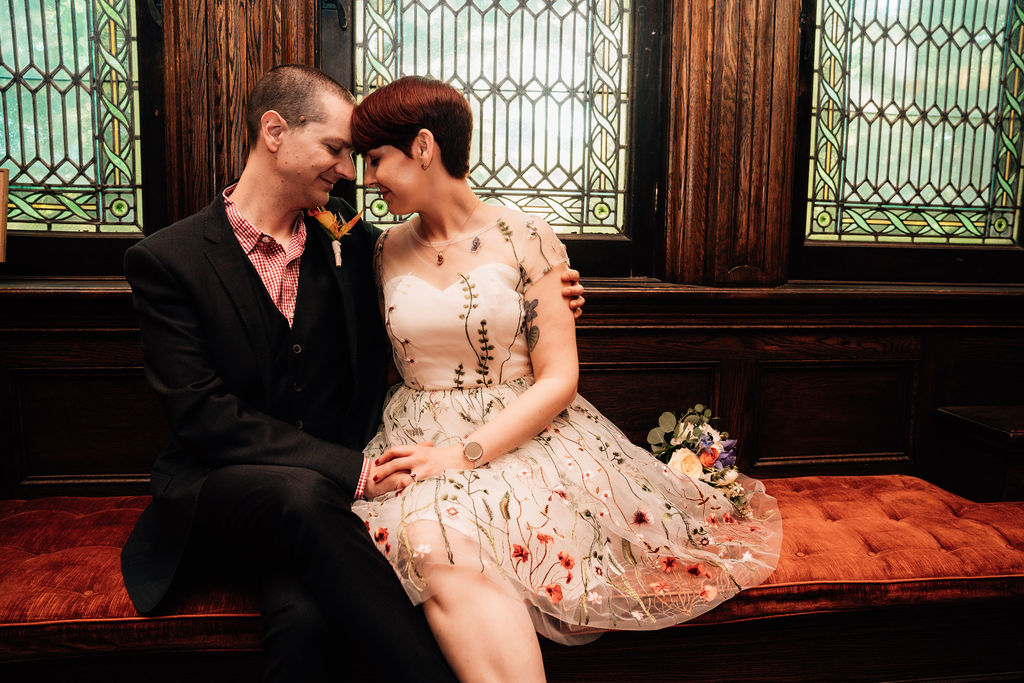 They also chose to incorporate a live stream of their ceremony from LoveStream so that those who weren't able to travel could be there virtually. This was my first time working a "Zoom wedding" (so to speak), and I have to say that I think live streams are here to stay! They are an excellent way to include folks who can't travel from far away or can't make it for other reasons as well as a way to have a larger guest list without straining the wedding budget.
A month later, I was back for Ty & Tere's wedding at the Lytle House. Their celebration featured an all-female mariachi band, an outfit change for both of them from dresses to suits, and a rainbow wedding cake. They also put a new twist on the bouquet toss: rather than flowers, stuffed animals were launched into the crowd and those who caught them are said to be the next to adopt a new pet! I also got to catch up with my friend, podcast co-host, and incredible photographer, Amanda Summerlin, who photographed the wedding.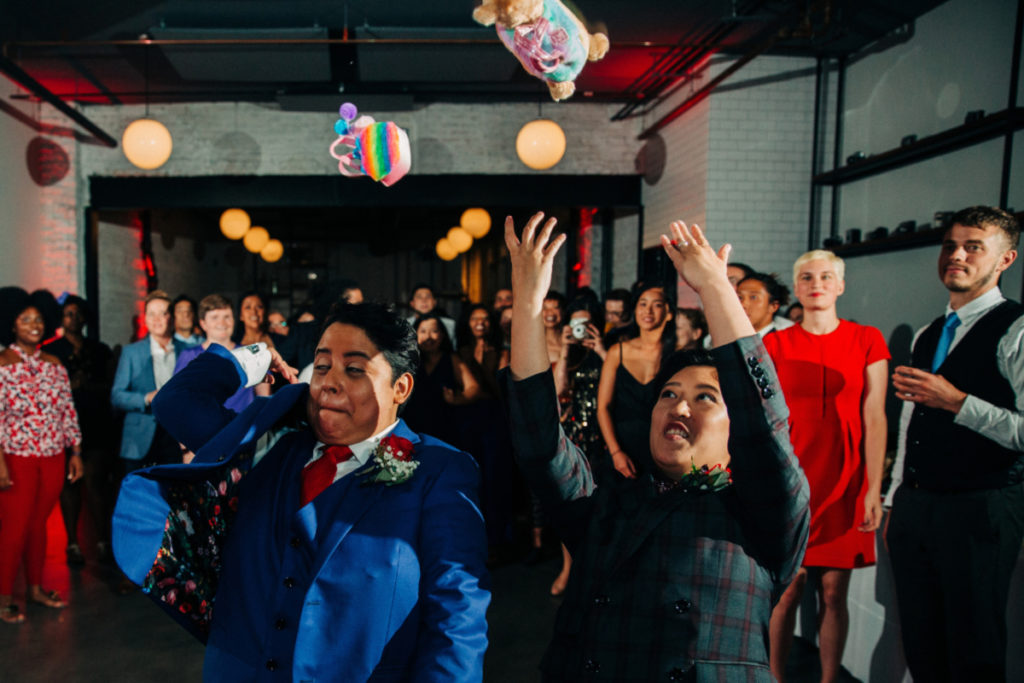 Finally, Some Washington Weddings and Growing the ALT Team!
The end of July brought a first for my team – we finally did a wedding in Seattle! Because we moved here just a few months before COVID hit, our planned schedule for 2020 was primarily weddings taking place in the midwest – our old home. With everything postponed or cancelled, those shifted into this year, which is why I had so much travel on the books.
But in June, my phone rang and it was Natalie, looking for a wedding coordinator to wrap up the final details and run the day smoothly for her and her fiancé (now husband), Tim. We got right to work managing everything – including a rain plan that we thankfully didn't have to use, despite a few sprinkles in the morning. Their ceremony at St. Mark's was followed by an outdoor reception at Wisteria Hall, where the Arboretum grounds made a stunning backdrop. We couldn't have asked for a nicer couple or families for our first local wedding!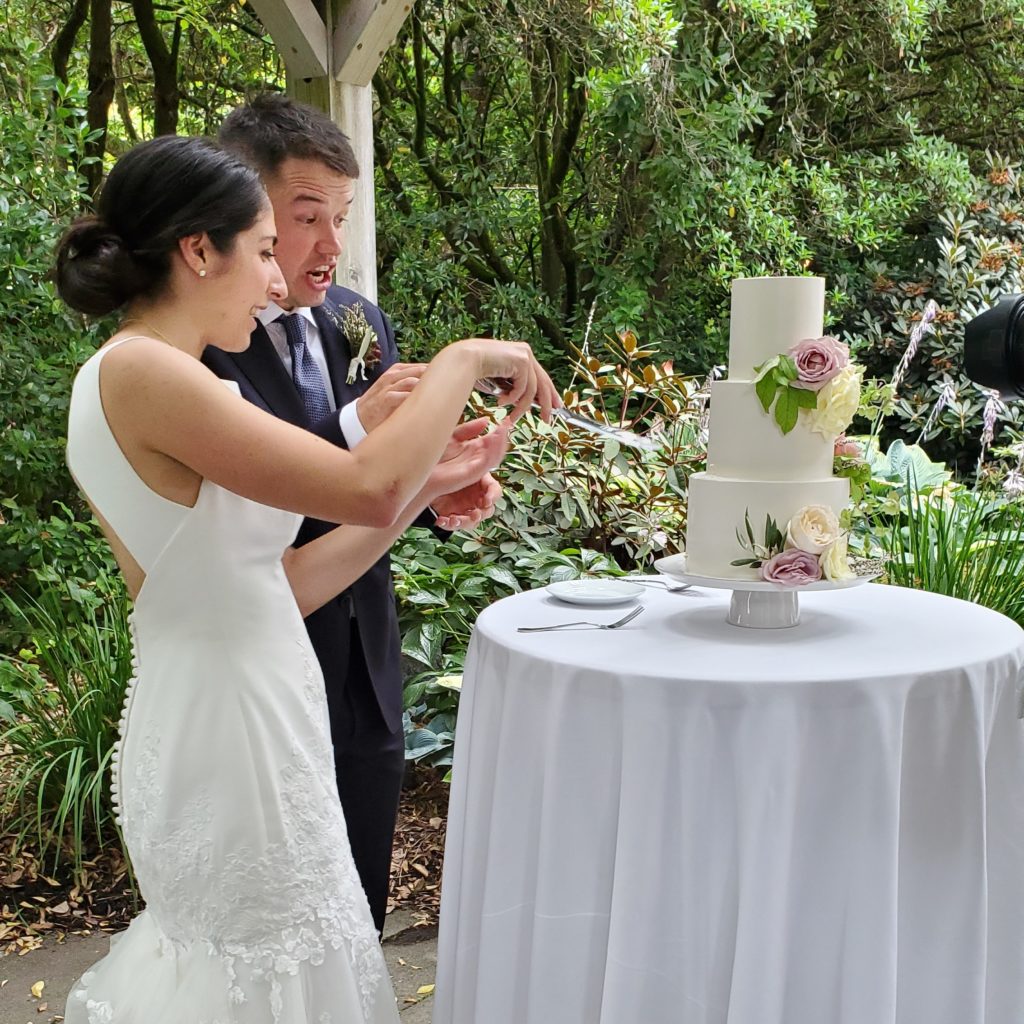 In August, I got to stretch my officiating muscles once again for Vishi & Hitesh's elopement at Richmond Beach Saltwater Park and then in September, we hopped over the mountains to Chelan for Cass & Karah's Amos Rome Vineyards wedding. Their DIY-filled celebration included a handcrafted balloon arch, tons of greenery and succulents, a grilled cheese and soup bar, and some highly entertaining performances by Seattle drag queens Cookie Couture and Betty Wetter!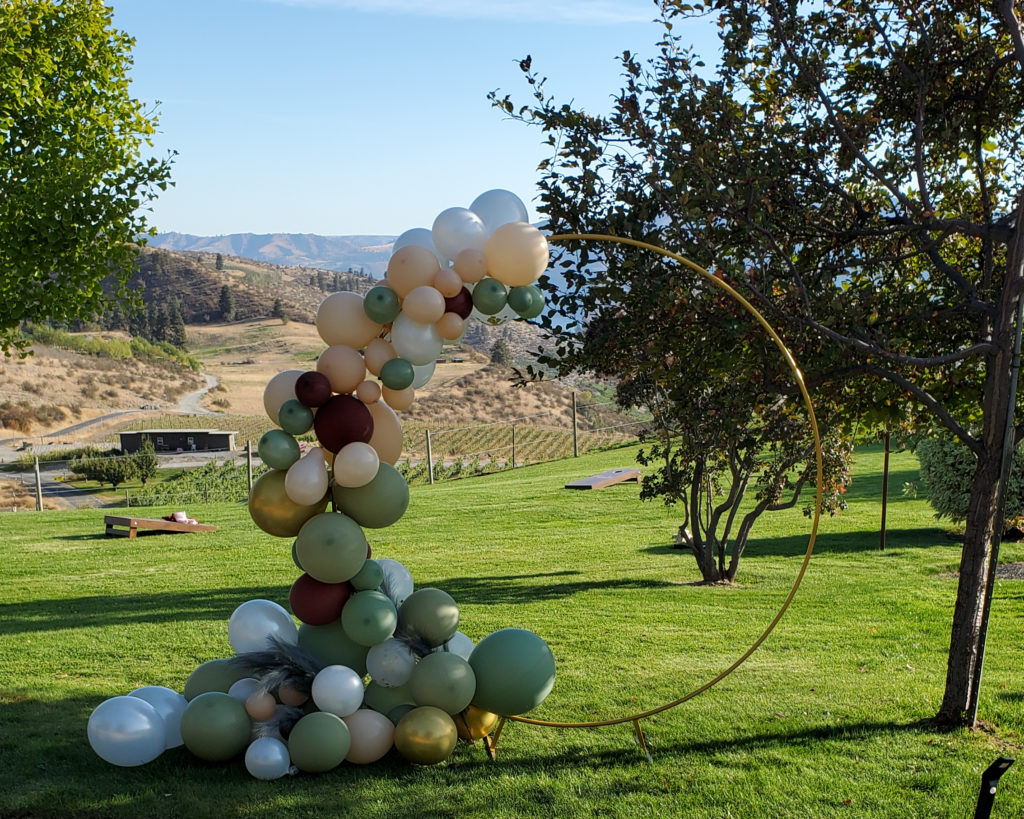 Between a very busy season with postponements from 2020 and many new clients inquiring for 2022 and beyond, it was also time to grow! I was delighted to have my friend and seasoned planner in her own right, Bec (of Sane Weddings) back on my team and I put out a call for applicants to assist us on wedding days. In the fall, I welcomed Colleen as a planner-in-training. She's been putting her previous experience in military logistics to good use helping me streamline our behind-the-scenes processes and she was an invaluable help on her first wedding with us. I'm grateful to have both of these wonderful humans on board. Soon, we'll add one more person to round out our team and increase our capacity for the busy seasons ahead.
Fall: On the Road Again
By October, I was getting tired of having my brain swabbed all the time, just to be safe. I think I racked up about 20 COVID tests throughout the year, before and after weddings, in hopes of confirming I hadn't caught it (I didn't! Masks work!) as well as preventing possible spread if I had. And my partner was really over driving me to and picking me up from SeaTac since we didn't feel comfortable with public transit or taxis. (Thanks, honey!)
But I wouldn't have missed the rest of my out-of-town weddings for anything! I headed to Michigan for Matt & Holly's wedding, where I teamed up with Amanda once more. They hopped on a trend that I hope really takes off: CAPES.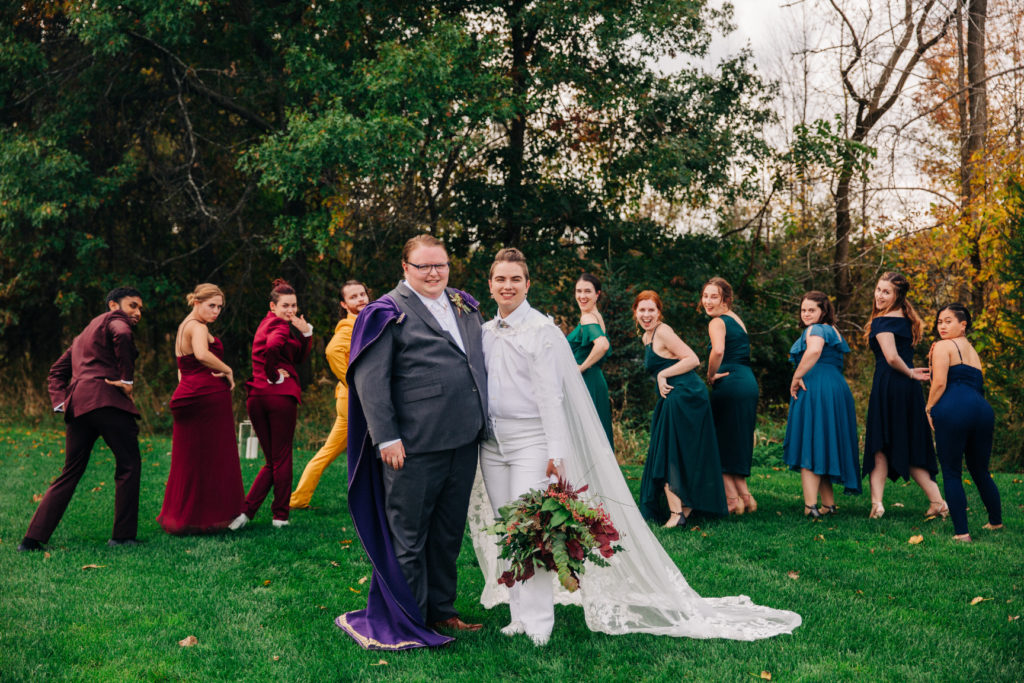 Holly's cape was airy and lacey, quite like a wedding veil, while Matt chose a royal purple. Combined with their rainbow wedding party, the fashions at their Cushing Field House wedding made a bold and queer AF statement!
After walking 7.31 miles worth of steps that day – a new record – I grabbed a night's sleep, got some coffee with Amanda, and then drove west into Chicago. I used my week in between to catch up with some friends, pop up to Wisconsin to see my sister and my nephew, and squeezed in a couple more COVID tests just in case.
The following Saturday, I was thrilled to be part of Eugene & Julia's wedding at the Little House of Glencoe. Their community surrounded them with so much love and many gifts of time, skills, and borrowed equipment that came together in a beautiful celebration. Among their many talents were crafters who created a plethora of unique decorations and fire spinners who lit up the night! Plus, we had pie from First Slice, a bonfire, and I got an assist from past client and stage manager extraordinaire Fredo. What. A. Day.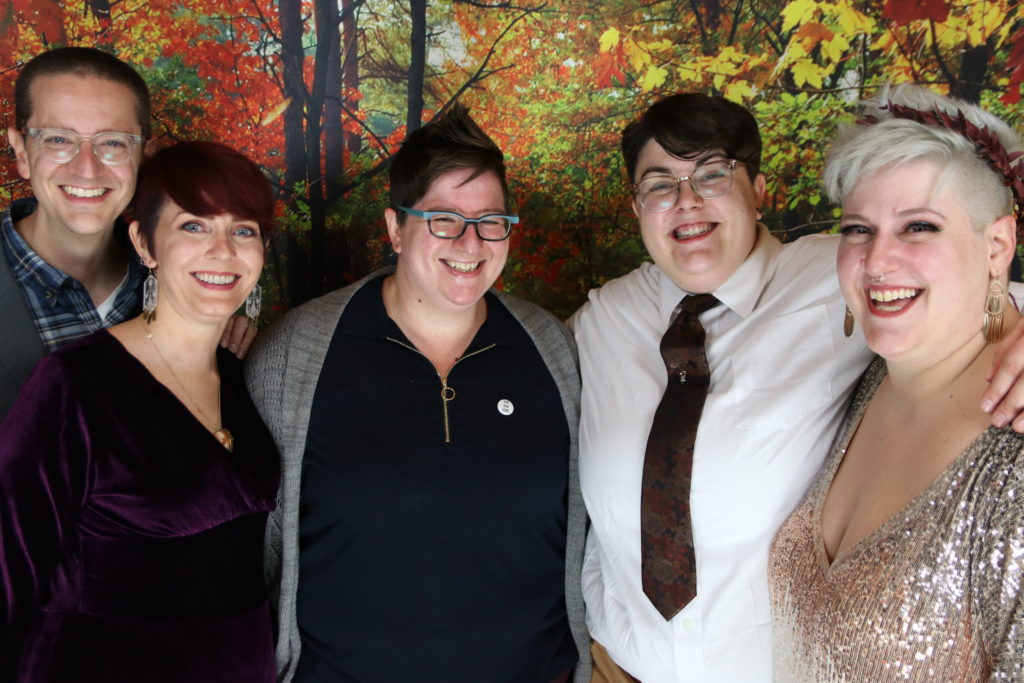 On the last Saturday of October, I was honored to officiate Maeve and Santiago's elopement at Rattlesnake Lake here in the Seattle area. They chose to include some witchy elements along with a handfasting as part of their marriage ceremony. And for a little bit of fun, they played Rock, Paper, Scissors to see who would share their vows first!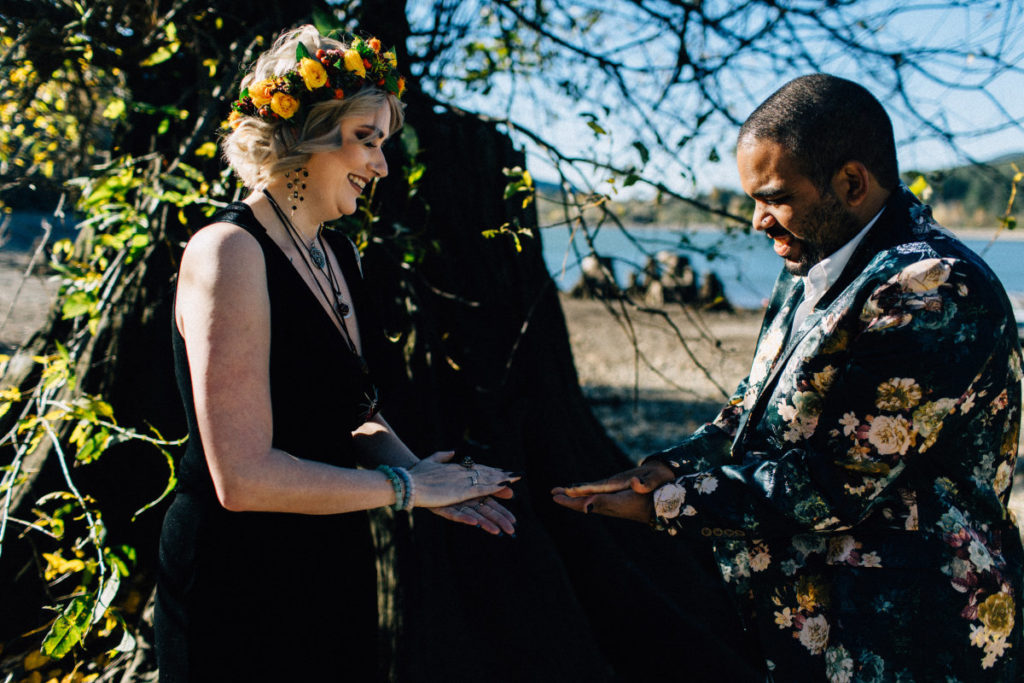 November took me to the East coast, where Anne & Andrew finally got to have their big wedding, after more than two years of planning during which we postponed the date twice. Our amazing team of vendors put together a spectacular event at an incredible venue right on the ocean (the aptly named Oceanview of Nahant) with so many little personal touches. Books from Anne's collection were incorporated into the centerpieces; D20s were worked into boutonnieres; and what happened in real like looks exactly how we planned in our mood board way back in 2019. I'd particularly like to shout out Courtney of Courtney Reid Design for being a wonderful and collaborative creative partner to bring this design to life!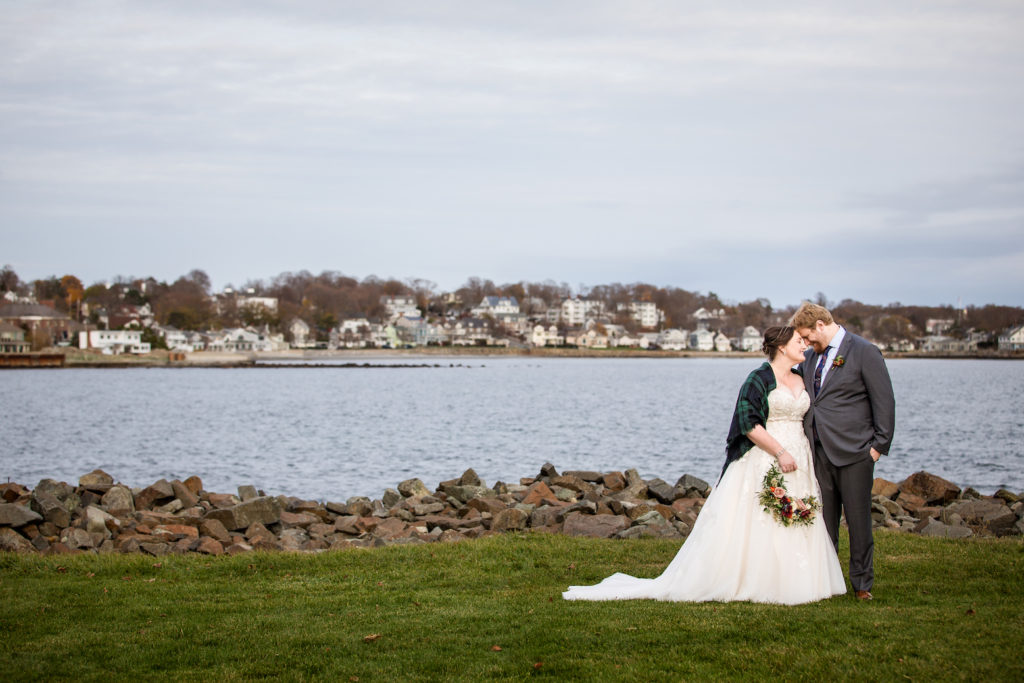 Winter: Home, Sweet, Home and Out with a Bang!
Last but absoultely not least, December kept our team at home for Maddy & Kevin's extra-in-the-best-possible-way wedding at the Four Seasons Seattle. There was amazing makeup. There was a magical winter forest, courtesy of Delinger & Radovich. There was special effect lighting and fog from Crimson Haze. There was, in Maddy's words, an "art crime" mashup of a first dance, complete with lip-synced screaming. And there was a drag performance and an introvert chamber and an adult flower girl and glowing orbs and an option to change into pajamas for the dance floor. It was a spectacular end to the year.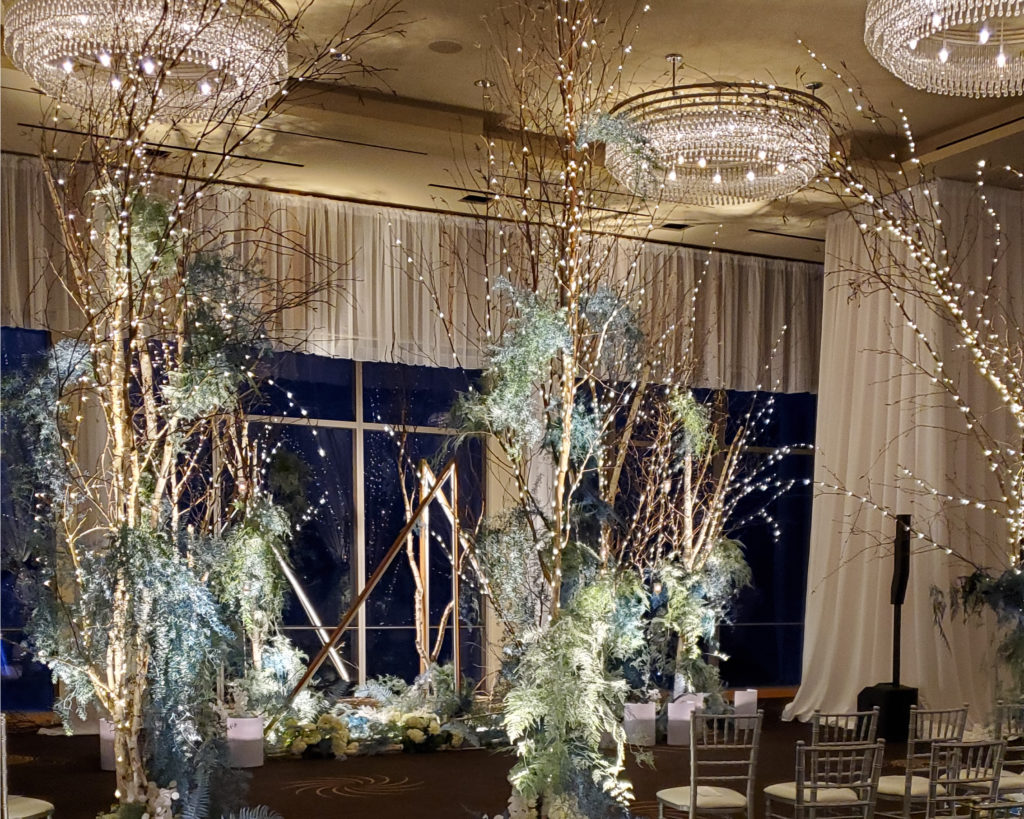 What's in Store for 2022?
I am really excited about the coming year! Even though we have a new variant and, no doubt, that will affect the wedding industry, we have so many wonderful clients and weddings ahead. I'm looking forward to really getting to know the Seattle wedding scene as I finally get a real season as a wedding planner in Seattle!
I'm stoked to have events that show off all the nature I love in the Pacific Northwest – with weddings at Golden Gardens Bathhouse, Trinity Tree Farm, Parties on the Terrace, and Twin Willow Gardens. I'm equally excited to check out some city venues – Cathedral in Ballard and and the Hall at Fauntleroy in West Seattle.
And I'm also looking forward to my travel weddings in 2022 – a DC-area wedding on a historic property with fireworks and hot air ballon rides and a a goth glam haunted house wedding that will take me back to Chicago.
We still have a few slots to fill so we'll see where those weddings take us, too. If one of those has your name on it, here's where to inquire.
Cheers to the New Year!