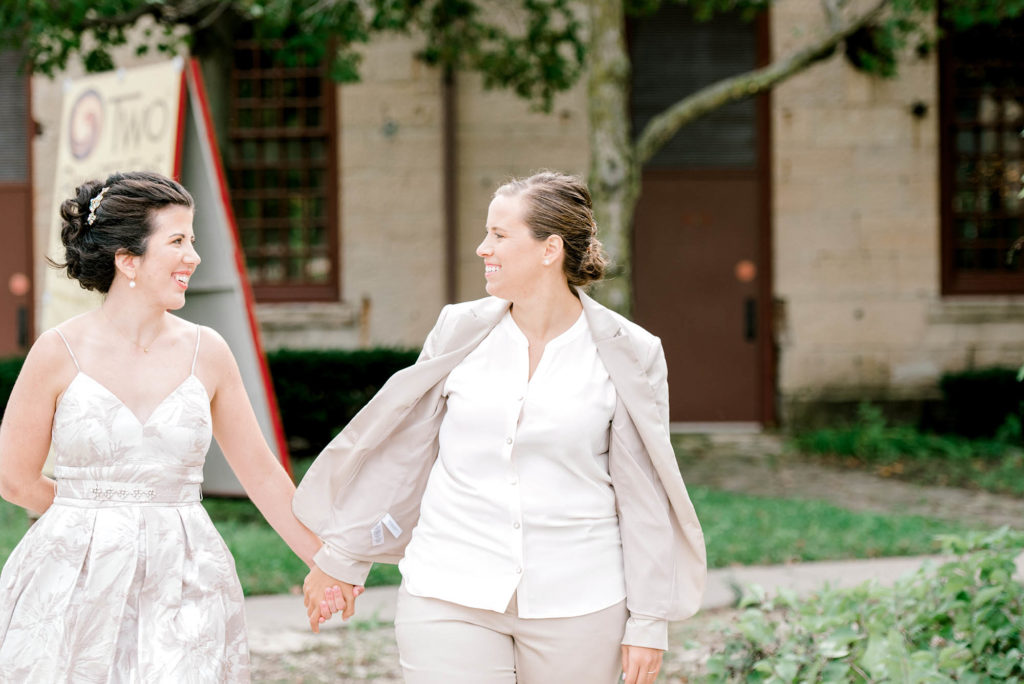 Jenny and Caroline contacted me after listening to me on the Super Gay Wedding podcast. They were planning from afar while living in New York City and they needed someone to manage their wedding in Illinois, where they were planning a bunch of DIY components and a whole lot of fun.
I had a blast managing their wedding. It was one of the most colorful and laughter-filled days I've had the pleasure to work! The day started with everyone getting ready together at Jenny's aunt's house. With music blasting, their hair and makeup was done by some talented friends. They were helped into gowns and shoes and met up in the living room for a first look.
While they wrapped that up, I headed over to Cool Acres Park to meet up with family and friends who'd volunteered to help set up their decorations and get the park shelter ready. They chose to mingle with their guests before the ceremony – something I personally love! – and the ceremony itself was one of the funniest I've witnessed.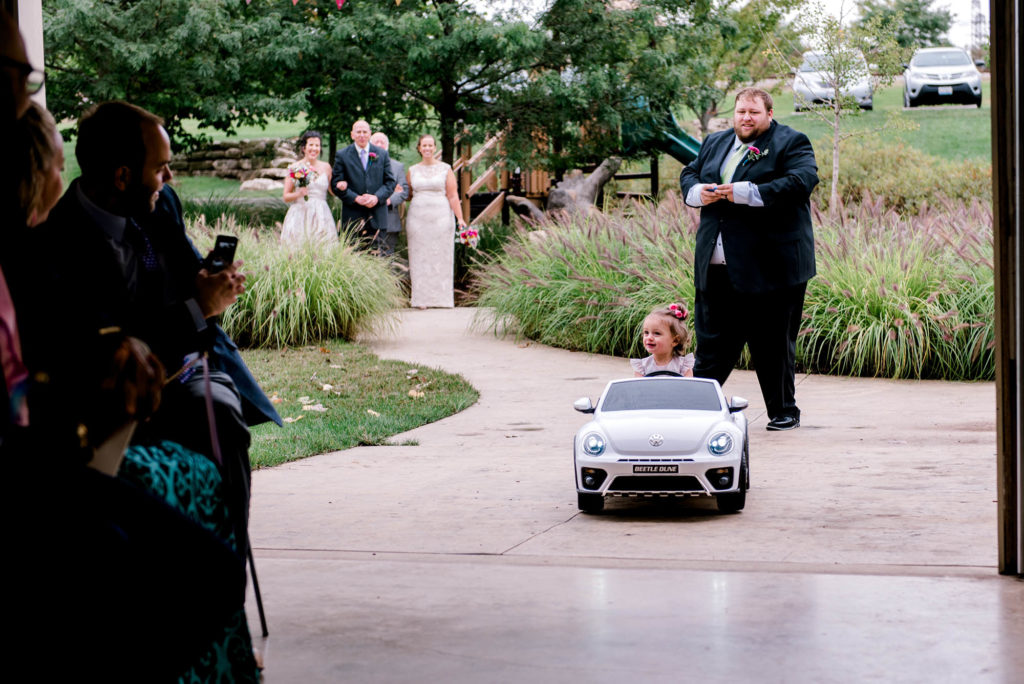 We got an adorable start as the flower girl, Jenny's niece, arrived in her very own tiny vehicle. A close friend officiated, which always brings an extra level of emotion. And we were treated to a beautiful solo by Caroline's sister, Cathy, as the two brides combined colorful glass pieces in a unity ceremony and signed their marriage license.
After they were proclaimed married, guests had a cocktail hour at the park while I packed up the decor items that needed to be moved to the reception. I headed over to Two Brothers Roundhouse to make sure everything was setup the way they wanted, added a few finishing touches, and waited for guests to make their way over.
After cutting their funfetti cake with rainbow sprinkles (#supergay!) and touching speeches by family and friends, they opened up the dance floor and rocked it all night long!
One of my favorite parts of this wedding was how colorful everything was. From the deeply saturated hues in their DIY flowers to their multicolor ribbon backdrop and bunting to the rainbow ribbon wands we set out for guests and the sprinkles on their cake, you couldn't look in any direction without being smacked by colors!! The wedding party was decked out in shades of gray – the only muted color in sight – and their bold bouquets and boutonnieres really popped.
I asked Caroline and Jenny to tell y'all what planning their wedding was really like and here's what they had to say:
How did the two of you meet? What was your engagement like?
We, like many couples of the 21st century, met with the help of the internet in 2013. I (Caroline) was in graduate school in Cincinnati, Ohio, where Jenny had moved for a new job a few months prior. After graduating in 2015, I moved to New York, and Jenny joined me there in the summer of 2018.
Who proposed and how?
It was the day after one of Jenny's dear friend's weddings (the first gay wedding we attended!) and a little over a week after our 5-year anniversary. We had a date day visiting some shops we loved in Geneva, Illinois and checking out a farm nearby. That afternoon it started snowing, which was wild for that time of year, so we decided to head back to the car. But before we did, Jenny proposed next to some funny looking pumpkins by saying "Hey, what about this?" as she pulled out the ring. I cried – and I thankfully thought to take one photo to remember the moment.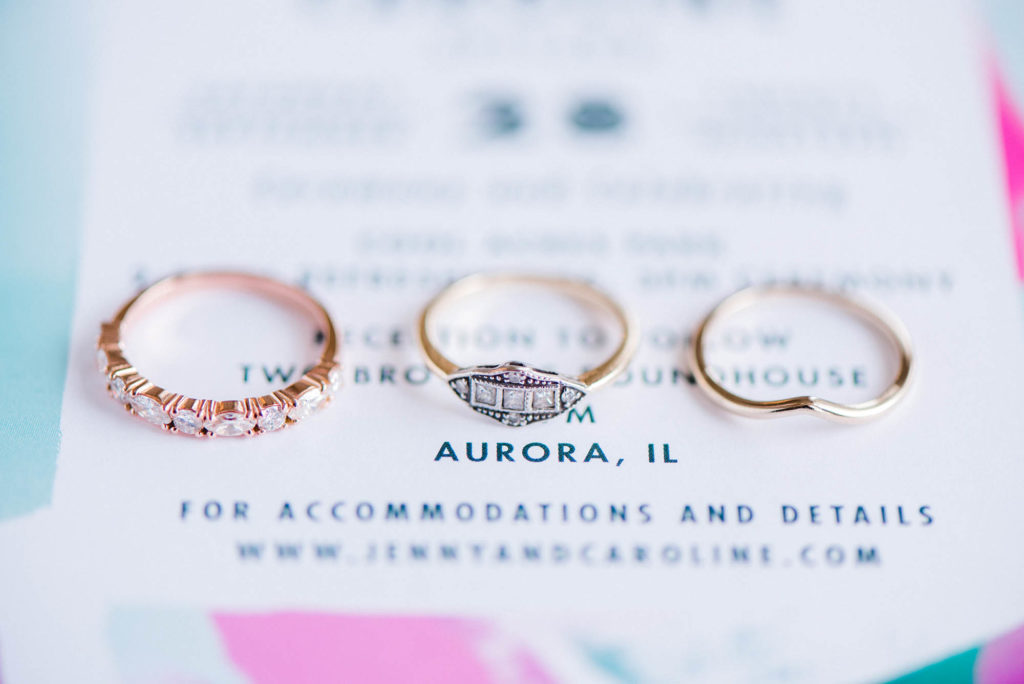 What was your favorite part of wedding planning?
We loved talking about the music. Whenever we sat down to work on stuff, it usually started by first playing the couple of songs we had been considering for different parts of the ceremony and practicing walking through our apartment.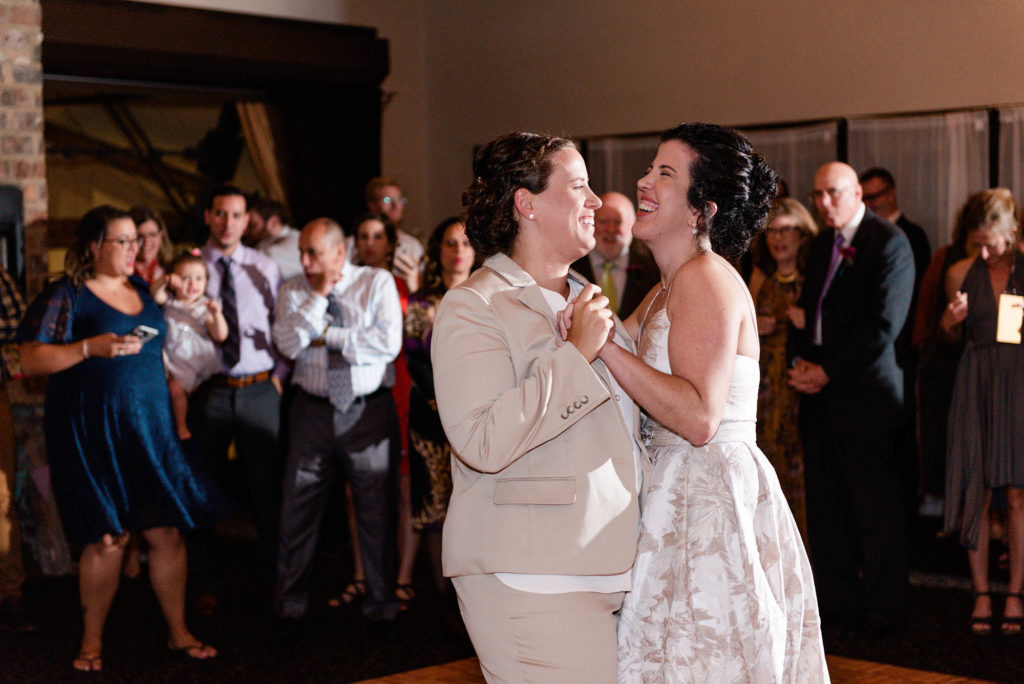 What was the hardest/most stressful part of wedding planning?
Choosing the venues sight unseen was the hardest part planning long distance! We relied on friends and family who had either gotten married in the area, or attended weddings in the area for insight. Doing DIY long distance was also tricky, limiting the time to work on projects to the few short pre-wedding trips we made.
What made you decide that you needed or wanted to hire a wedding planner? Why did you think Aisle Less Traveled was the right choice?
The two initial reasons were was because we were planning long-distance and because we were using two different venues: a park for the ceremony, and a brewery reception space. I work crazy hours and knew the greatest gift I could give myself was not having to worry about the logistics of the wedding day. After listening to a few episodes of the Super Gay Wedding podcast I set up our initial call and knew right away it was going to be the right choice! Cindy's stage management background was a huge plus – as a theatre person myself I knew we'd run on similar wavelengths. Cindy's experience in the LGBTQ+ wedding world was also a huge plus in helping us navigate the balance we were seeking between a traditional wedding and a wedding we could call our own.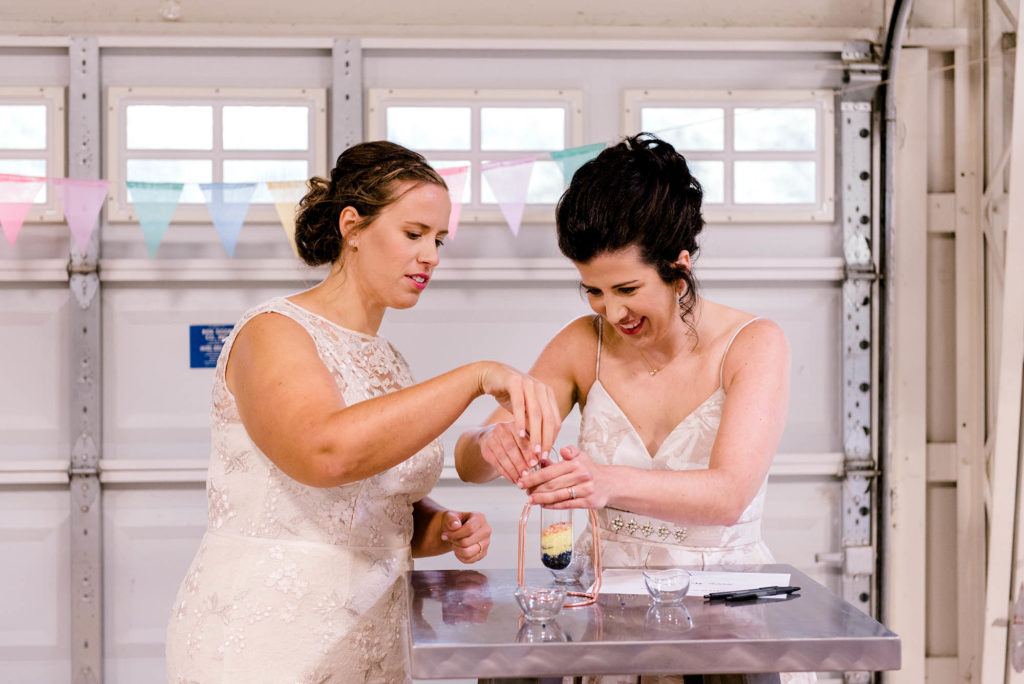 How did you pick your wedding location and venue? What were you looking for when you started searching? Did you find it?
We knew we'd be getting married in the Chicago area, so that was our first point to narrow down venues. Initially we were looking for venues that had indoor and outdoor spaces. We wanted funky/non-traditional spaces. While we found some cool venues in Chicago proper online, we decided to expand our search to the suburbs. We landed on a guest count of 115, which I learned is a very in-between size for weddings. All the smaller venues I called accommodated 75-85 guests, and the larger venues were 150+. After getting the suggestion from a friend, we landed on the Two Brothers Roundhouse and snagged the last Saturday weekend they had available in the fall of 2019.
What were some of your favorite moments of your wedding day?
So many! Our ceremony was definitely the best part of the whole day. We gave David, our officiant, a pretty thorough outline for the ceremony, but left a lot of opportunity for him to ad-lib throughout. It made the ceremony so personal and memorable and having no idea what he was going to add really helped us be present in the moment! The greatest was also having all of our favorite people all in the same place at the same time – we've both lived and worked all over the country so it was a "one night only" moment in history to have all of our friends and family together. That was why we chose to start the ceremony earlier and have a party before the reception. Most people traveled so we wanted to make it a worthwhile affair!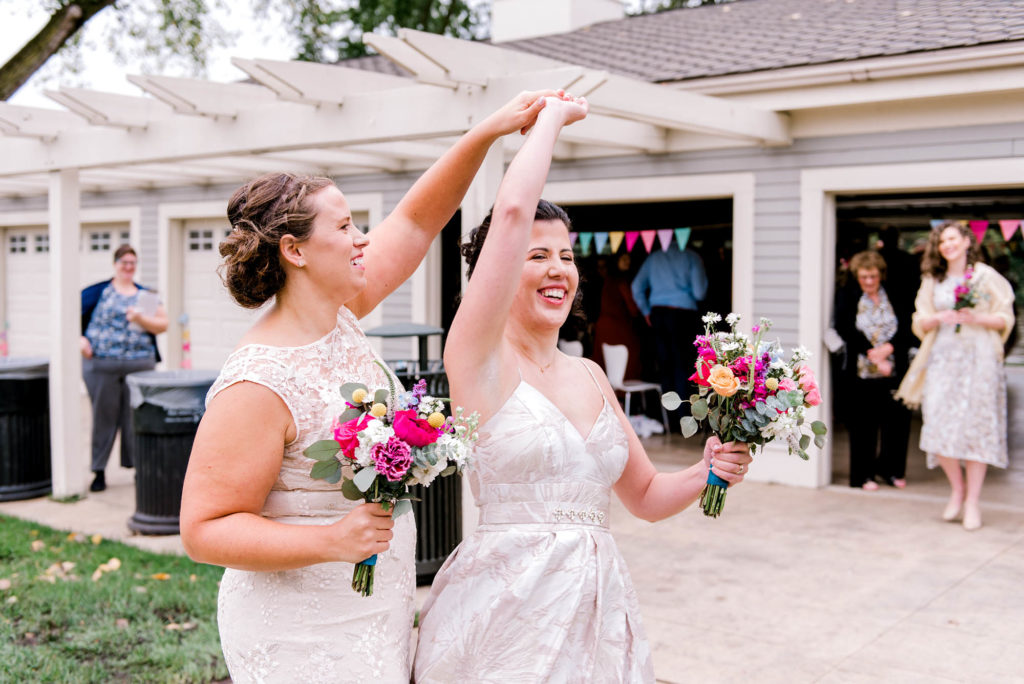 What are some of your favorite wedding details?
We were so glad we found a way to have real flowers without breaking the bank! Bloominous ended up being such a great experience. With the help of three extra sets of hands, we did all the flowers for our wedding in three hours! I loved that the bakery our reception venue used was able to do a funfetti cake! Our final favorite detail was Sophia entering in the car – another memorable moment for sure!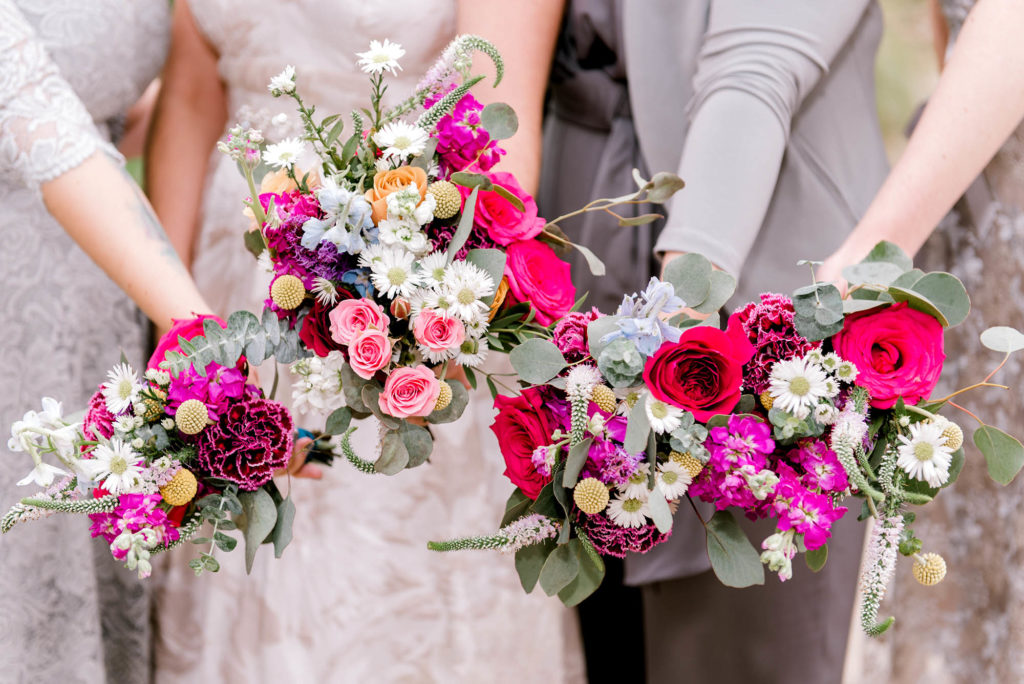 Tell us about the music you chose for the important moments of your day.
I think the music was one of the things we had spent the most time on in planning. We wanted all of the ceremony music to feel like a party – sentimental and fun. Betty Who, an artist who we both love and have seen live multiple times, played a huge part. We ended up using Betty Who for both our ceremony processional song and our first dance.
If you were planning your wedding and getting married all over again, is there anything you'd do differently?
On one hand, we kind of feel that it would have been great to have the ceremony and reception all at the same place, but on the other hand, I really love how everything turned out and don't regret the extra stress of that at all! We decided to use our own camcorder to record the ceremony and speeches rather than hiring a videographer. The only thing I would have done differently would have been to film the first dances and some of the reception.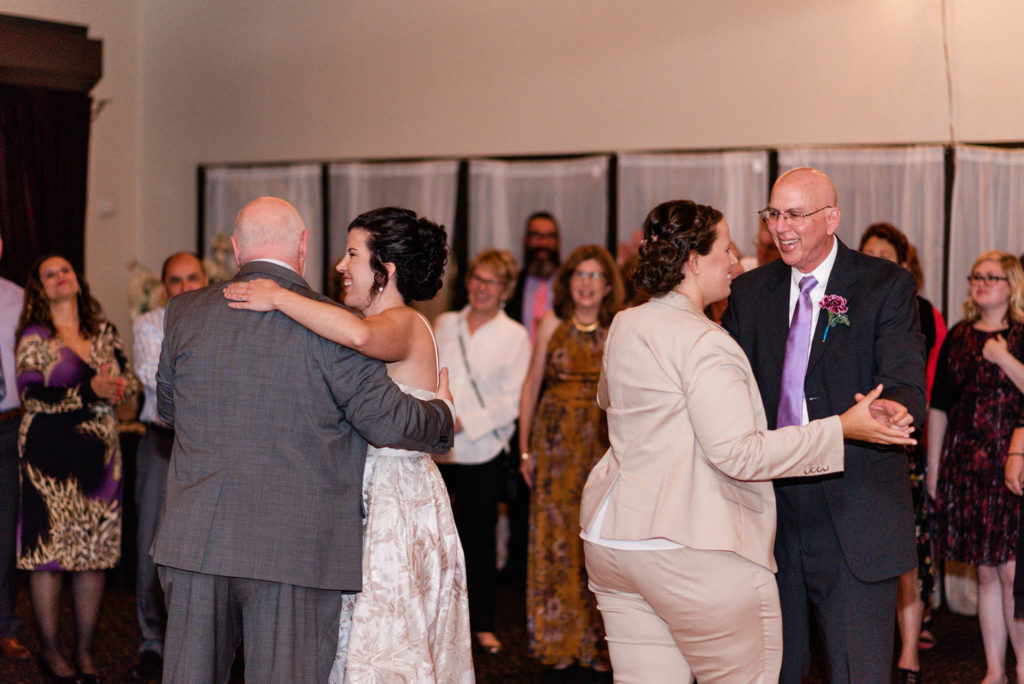 What was the best or most valuable thing you spent money on for your wedding?
100% our photographer, Anamaria Vieriu, and day-of-coordinating from Aisle Less Traveled.
Having a great photographer we clicked with was very important. We found her by chance through a Chicago photographer Facebook group my sister was in when someone else had posted looking for wedding photographer for an LGBTQ+ wedding, in Aurora, on the same weekend and for around our same budget. It was fate! We went through the websites of all the photographers who had commented and reached out to Anamaria.
I don't think we could have pulled off the day without Cindy's help. Planning from afar was hard enough, but having someone who could handle the day-of logistics for our fully DIY ceremony/afternoon party was invaluable. Hiccups of course happen, but thankfully she was there to support us the whole day.
Tell us about your wedding budget. How did you plan for and prioritize your spending?
Once we nailed down the reception venue we had a pretty good ballpark of what the wedding was going to cost. We chose what things were priorities (open bar reception, a great photographer just to name a few) and chose where we could save (DIY flowers vs. a florist, what were going to wear, and not having favors.)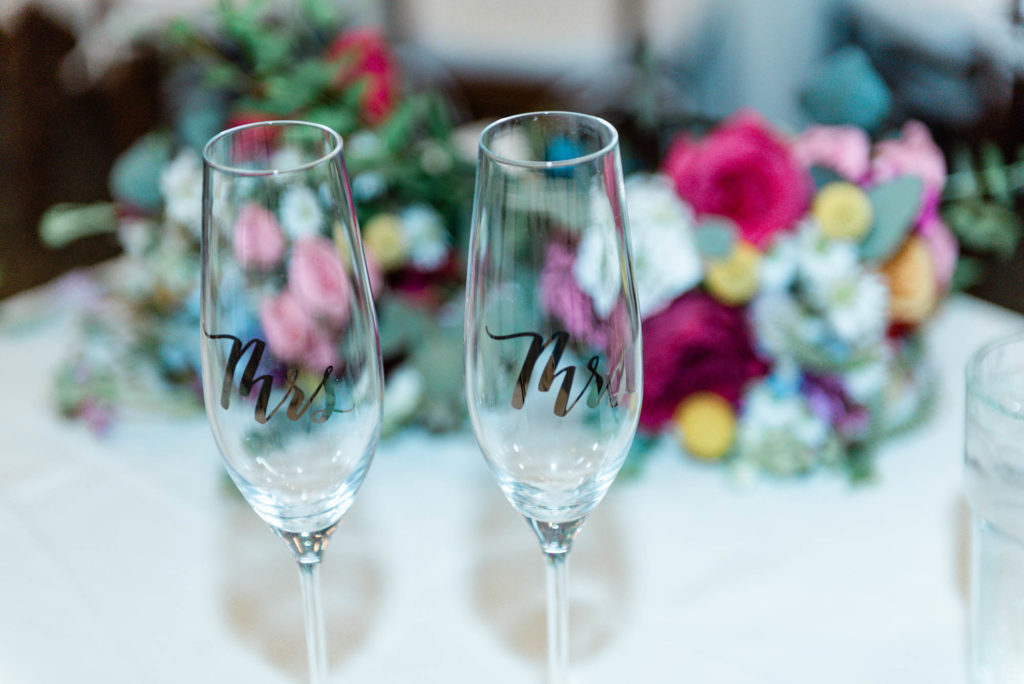 Is there anything you'd skip or spend less on, knowing what you do now?
We ended up ordering too much food for the rehearsal dinner. That's about all I can think of.
Let's talk about your inspiration and sources for decor, paper goods, and what you wore – the visual pieces that made your wedding look come together.
Our inspiration came from Pinterest, Offbeat Bride, and the Super Gay Wedding podcast.
We had our clothing altered in NYC – Jenny's suit at Giliberto Designs, a custom menswear and alteration shop for private clients, Broadway shows and film/tv, and Caroline's dress at Bethany Joy Costumes. Bethany does custom clothing and alterations for theatre, film, and tv. She also takes on a number of private and bridal clients each year for both alterations and custom wedding gowns. My dress was a massive steal that I couldn't pass up during Lord & Taylor's flagship liquidation sale. It wasn't perfect but I saw its potential! Bethany addressed every concern I had.
Both vendors are vendors I use for work who I also consider friends. I definitely recommend them. Both experiences were very supportive.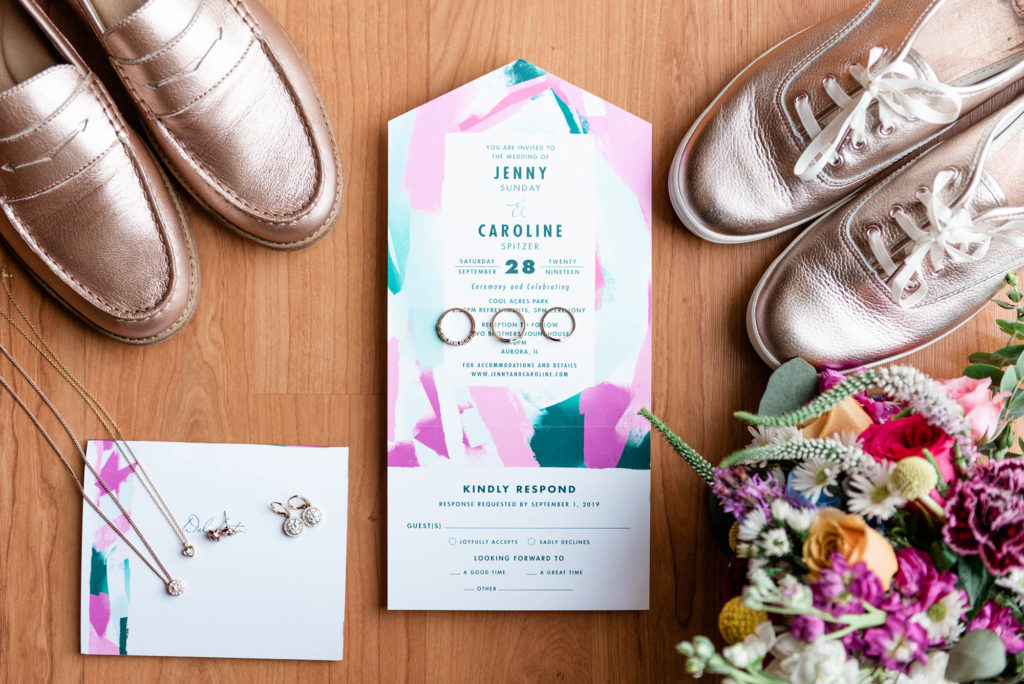 What makes your wedding an Aisle Less Traveled wedding (independent, feminist, LGBTQ+, etc.)?
It's all of the above! We wanted our wedding to celebrate the choice we were making as individuals to commit to and love one another while fully remaining ourselves.
---
Meet the Wedding Pros
Every great wedding is backed by a team of incredible wedding professionals. I can do my best work when I'm working with the best people. Here are the ones who helped me make this wedding happen:
Ceremony Venue: Cool Acres Park
Reception Venue & Catering: Two Brothers Roundhouse
Photography: Anamaria Vierieu
Flowers: DIY using the Kaleidescope collection from Bloominous
Decor: DIY by Jenny & Caroline
Dessert: The Cakery
Officiant: David Arevalo
Hair: Katerina Matsas
Makeup: Bella Ciccone
DJ: A Sound Decision
Event Staff (at the park): Bonheur
Ceremony Rentals: Angles on Design
Caroline's Attire: dress – Lord & Taylor; shoes – Keds; hair comb: Etsy Wedding Rings: Catbird Jewelry
Jenny's Attire: suit – Ann Taylor; dress – Macy's; shoes – Sperry's
Invitations: Minted (with the help of the Aisle Less Traveled's client discount!) Guest Book: custom from Etsy
Wedding Planner: Aisle Less Traveled, of course! (Learn how we can plan together here.)
Photos in this post were generously shared by Anamaria Vierieu and are reposted here with her permission. Photos in this and all posts are protected by copyright, which means it's illegal for you to download, copy, share, or alter them without written authorization from the photographer.