7 ways to mitigate the frivolity of planning a big-ass party when neo-Nazis are marching, the planet is melting, and POTUS is leading the Confederate States of America with "alternative facts."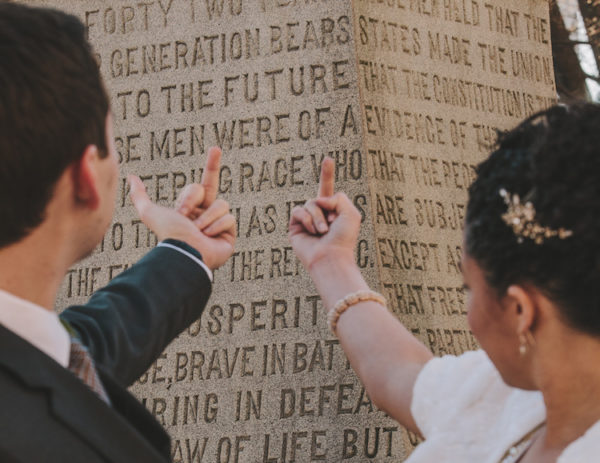 1. GET CLEAR ON WHY YOU ARE EVEN DOING THIS
There is a fuck ton of pressure on all young-ish people who are in relationships to get married. Be sure you know why you are getting married, and that you are not just taking the next expected step.
And do your very best to pick the right person. I cannot stress this enough.
Life is short. Nukes and armed white supremacists and increasingly-frequent severe weather events could make it dramatically shorter. Spend it with someone you can't imagine spending it without.
2. HIRE MINORITY-OWNED WEDDING BUSINESSES
One way to fight white supremacy and the patriarchy is to redistribute power to non-white, non-Christian, LGBTQ+, and female people.
Take the extra 90 seconds when you're vendor hunting to read about pages and find out who they are. Most of us will tell you right there.
Look through portfolios to see if there's representation beyond the straight, white, wealthy, and thin wedding industry standard.
Start your search at places like Catalyst Wedding Co., where you'll find a whole directory of #WokeWeddingPros.
Here are some to get you started. Also, here are a couple more. Ok, maybe just another one or two. There really are quite a few to choose from!
3. EDUCATE
You know what happens for most people when they plan a wedding? They spend a lot more time than usual around their families.
Do you have a racist (covert or overt) uncle? A homophobic grandma? A cousin who thinks immigrants should go back home? Take the extra time when you are wrangling their RSVP or making small talk at a shower to teach them about privilege, intersectionality, and recycling those beer bottles you're clinking. (You may need this.)
Do you still have some things to learn? The answer is YES. The answer is ALWAYS yes. Start here.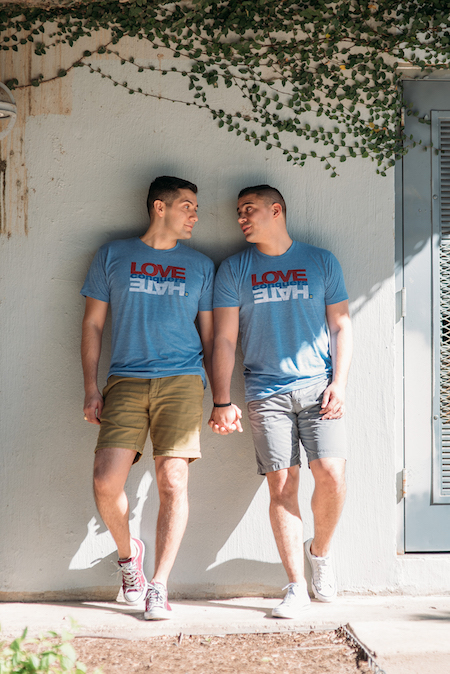 4. MAKE YOUR WEDDING AS SUSTAINABLE AS POSSIBLE
Weddings produce a ton of trash. Let's make your big day more sustainable:
Save the trees by foregoing any paper goods that you don't feel really strongly about (Goodbye, programs, place cards, and menus that end up in the trash. Hello, large signs with wedding party, schedules of events, food choices, and seating charts!)
Consider taking your invitations online. If not entirely, at least move RSVPs, directions, travel info, and all other extra insert cards to a website instead of printing and mailing.
Reuse: there are many places to find gently-used wedding stuff, so you don't have to buy new. As a bonus, it'll probably cost you less AND you can re-sell it afterwards! Keep your décor out of the garbage bin!
Same goes for wedding gowns. Or refashion a dress from a close friend or family member to suit your style. Or buy something you will actually wear again, repeatedly.
Don't be shy about asking vendors what their sustainability practices are! You'll find florists who source sustainably grown blooms, stationers using FSC-certified papers, and caterers who insist on composting and recycling.
Encourage your guests to carpool! (Or share a cab or a Lyft or take public transportation, or walk.)
Make sure recycling is happening if you are serving food or drinks.
5. GIVE BACK
Can you afford to support organizations that are working for social justice? Great! Make a donation in honor of your marriage. Better yet, make it an annual tradition to give every year on your anniversary.
No extra cash? That's ok. Make your wedding budget do double-duty:
Instead of giving out $2 favors to each guest, put all that money together and donate it to an organization that is making the world a better place.
Hire vendors who do the same as part of their business practices.
Haven't booked a venue yet? Look into non-profits in your area, and see which of them have event space available for rent.
Ask your guests to bring canned goods or a donation to your favorite charity in lieu of a gift.
6. TAKE CARE OF YOURSELVES
We all know wedding planning is stressful; and when it's added to the pile of Things that are Happening in the world and your life, it can easily push you to a breaking point.
And so you may find yourselves feeling something like:
A) "Everything is completely fucked, so let's throw the raddest party with all our friends that we can dream up!"
B) "Everything is completely fucked, and we are now unable to accomplish anything so trivial as planning a wedding!!"
C) "Everything is completely fucked, so let's get married as quickly and easily as possible!"
All are totally legit reactions. Give in to whichever calls to you as much as possible. Some possible responses:
Hire a planner so that you don't have to invest your emotional energy and time in logistics and details.
Choose 2 or 3 priorities for your wedding and just say no to everything else.
Skip on down to the courthouse, e-vite your nearest and dearest, order some pizzas, and call it a (wedding) day.
Use wedding planning as an escape from this insane reality.
7. DON'T LET THESE FUCKERS STEAL YOUR JOY
Seriously.
We will keep fighting, and this will almost certainly continue to be a giant dumpster fire for a while, and we may get nuked or we may become a fascist dictatorship, and we may have (more of) our rights stripped away, but they can never take away what is in our hearts.
So keep that, treasure that, celebrate it with every ounce of your being, in every moment that you have the opportunity to do so.
Because #LoveIsLoveIsLove.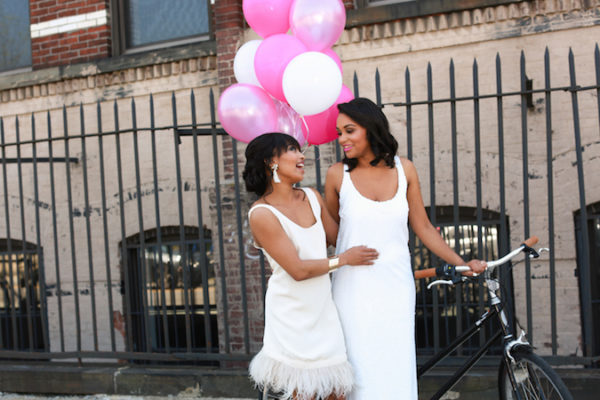 ---
This post is dedicated to Hillary Clemens Harbor, who dedicates many unpaid hours of her time to gathering and summarizing the actual, real, non-alternative facts and news every weekday in the Harbor News Roundup. If you want to stay informed, and I know you do, I suggest you give that a follow.