A challenge that virtually every couple faces as they start planning a wedding is answering the question that almost every potential vendor asks: "What is your budget?"
It's frustrating for engaged couples, who have never planned a wedding before and therefore don't have any idea how much things should cost. It's frustrating for wedding pros who get inquiries with numbers that are far too low for our products and services.
So I thought I'd give it to you straight.*
In most parts of the United States, you can expect a wedding to cost an average of $400-$600 per guest.
In major metro areas, just like everything else, weddings cost more. So if you're in Seattle, New York, Los Angeles, Chicago, San Francisco, Washington, D.C. or any other place where housing costs make you weep, you should budget even more – $600-1,00 per guest is a better rough estimate in these areas.
For 100 guests, you can expect your wedding to cost somewhere between $30,000 – $90,000 – or more – depending on where it's happening and exactly what's included.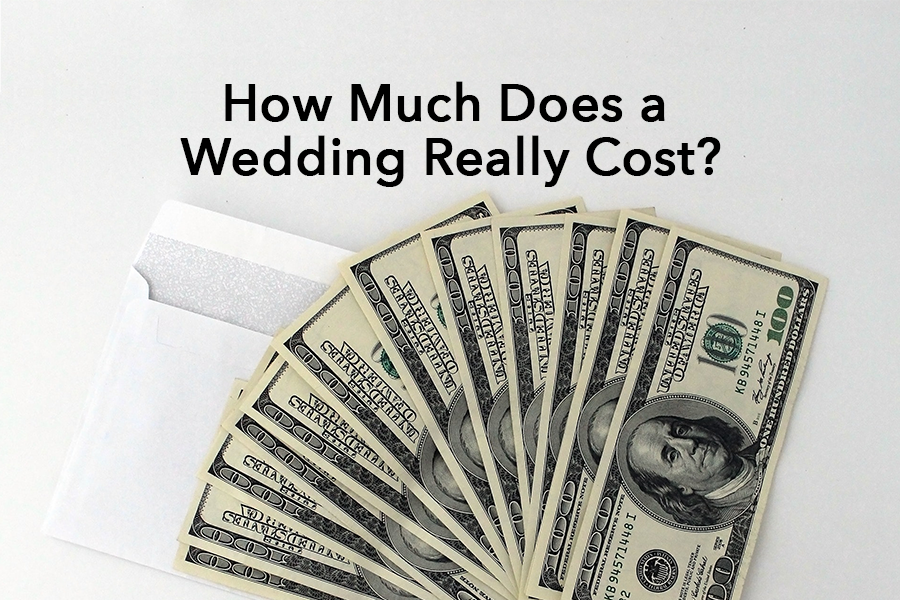 Real Average Wedding Costs
Because I want you to be super informed, here's a rough idea about how that average breaks down:
| | | |
| --- | --- | --- |
| Service | Mid-Size City | Major Metro Area |
| Venue | $2,500 | $8,000 |
| Catering (for 100 guests) | $10,000 | $30,000 |
| Photographer | $3,000 | $5,000 |
| DJ* | $1,500 | $2,000 |
| Band* | $4,000 | $8,000 |
| Cake/Dessert (for 100 guests) | $600 | $1,200 |
| Florist (for 100 guests) | $2,500 | $4,000 |
| Wedding Planner (for wedding management)* | $2,000 | $4,000 |
| Wedding Planner (for full-service planning)* | $8,000 | $12,000 |
| Officiant | $650 | $1,000 |
| Hair & Makeup for one of you + 3 attendants | $850 | $1,500 |
| Invitations, Save-the-Dates, Postage | $200 | $1,500 |
| Ceremony Musicians | $750 | $1,200 |
| Wedding Day Transportation | $500 | $1,800 |
| Videographer | $2,500 | $5,000 |
| Lighting/Non-Floral Decor | $1,000 | $2,500 |
| Photo Booth | $1,000 | $1,500 |
| Wedding Gown & Accessories | $1,500 | $2,500 |
| Alterations | $350 | $800 |
| Suit/Tux | $125 | $1,500 |
| Wedding Rings | $1,000 | $5,000 |
| Small Expenses too numerous to list here | $1,000 | $2,500 |
| Total | $32,625 | $96,500 |
| *Total includes DJ and Wedding Management for mid-size city and Band and Full-Service Wedding Planning for major metro areas. | | |
| Average Cost Per Guest (for 100 guests) | ~$325 | ~$965 |
These are not just numbers I pulled out of my ass. This is what I know from having planned more than 100 weddings in twelve states and seeing all the contracts and dollars spent.
About the ranges:
You'll find "Mid-Size City" pricing in small and mid-size cities and some suburbs of major cities, especially in the south and midwest, where the cost of living is generally low. You may also find them in larger/more expensive areas when the product or service is basic and typically not customized specifically for your wedding and/or the provider is less experienced (< 3 years doing weddings.)
You'll find the "Major Metro Area" prices in big cities and their surrounding suburbs, where the cost of living is high. You may also find higher prices in smaller/less expensive areas when the product or service is more complex or higher-end and/or the provider is more experienced (5+ years doing weddings.)
Weddings in the $80-100k+ range make up the bulk of what you see on Pinterest and wedding blogs, which is why it can be hard to reconcile the "average" cost of weddings (reported to be just under $40k) with what you're quoted when you ask the kinds of products and services that you've seen in wedding media.
Most weddings cost somewhere in between these high and low estimates. And of course, you can omit some things altogether if you need to save money on your wedding.
Disclaimers:
These are ballpark averages based on my experience. Yours will undoubtedly vary as much as the difference between three different vendors for the "same" service in the same location.
Speaking of which, for every service, there is a wide range not only of what different providers charge for each thing, but in what you want vs. what someone else wants. Inexplicably,** I have a beer analogy for you: You go to the bar and order your favorite craft brew. The person sitting next to you is downing the champagne of beers with no regrets. They're both a pint of beer, but they have different price tags. It's the same with your centerpieces or food choices or venue or whatever else.
This post was written in 2020. Prices increase over time, so if you're reading this later, please bear that in mind.
What you'll personally find in any particular location may vary widely from what I've posted here. But my hope is that this will give you a general sense of costs as you start to plan your budget.
Wondering why these vendors all charge so much? Give this a read.
Need help figuring out your budget? I've got you.
*To be clear: I'm still super gay. I just don't like to bullshit people, especially when we're talking about tens of thousands of dollars.
**I've tried so hard for so many years, but y'all – I really hate beer.